Good Night Sleep Tight Books
Best-selling Book and Workbooks
SLEEP TRAIN YOUR BABY OR CHILD
WITHOUT LETTING THEM CRY IT OUT ALONE
As parents, we have the responsibility to teach our children how to sleep. While we can't promise no crying in this teaching process, we can promise that we won't tell you to leave your baby to cry it out alone. What we will teach you is how to get your child to fall asleep independently. Teaching this skill may seem difficult or impossible  – but we promise you it is doable!
This is where we step in. Our best-selling sleep training books have helped hundreds of thousands of families finally get the sleep they need. In our best-selling book, The Sleep Lady's Good Night Sleep Tight we take you step-by-step on how to sleep train babies as young as 6-months and children as old as 6-years. The accompanying Good Night, Sleep Tight Workbook will get you right to the nitty gritty in creating a sleep plan for your child. Kim has also partnered with a special needs educator to bring a Good Night, Sleep Tight Workbook specifically for children with special needs. Whatever your need, we have the tools you need to be successful in sleep training your child.
Over 140,000 Paperback Copies Sold
The Sleep Lady's Good Night, Sleep Tight
Kims' best-selling book can guide you when navigating newborn sleep and beyond. For newborns, the book helps you focus on setting yourself and your newborn up for sleep success. There is plenty you can do for your little sleepyhead now, even if they aren't developmentally ready to be coached to sleep. The book will guide you to gently shape your newborns' sleep habits by teaching soothing techniques, how to create a sleep friendly environment and a soothing pre-sleep routine. In the future, it will serve as a great guide to sleep train your baby when you are both ready.
Gentle Sleep Solutions saved our life, our business, our relationship, and our sanity! …  Kim West's Gentle Sleep Solutions online course was a total game-changer for our family. We watched all the videos and followed her advice to a T. Now our son is sleeping through the night, 12 hours straight, and taking two 90 minute naps during the day. Mom and Dad are also sleeping through the night once again, and as a result, we are all so much happier, so much more productive, and FINALLY able to enjoy our time together as a family, and as a couple. Thank you Kim West for creating this awesome program! You're a true gift to parents and babies everywhere!"
~ Jaime Geffner
Want more out of Good Night, Sleep Tight?
Get The Companion Workbook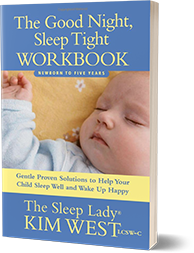 This workbook is an essential companion to the best-selling book, Good Night Sleep Tight. The book includes a step-by-step guide for parents, is organized by age and process, and is the key to sleep coaching success. The Workbook can be used as a standalone guide and includes all of the essentials right inside the book, such as lists, plans and logs to help tired parents with children of any age who are experiencing sleep problems.
Sleep Help For Children with Special Needs
Get The Companion Workbook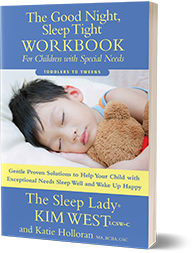 Over the years as more and more families have found success with Good Night Sleep Tight, Kim West has noticed a need for parents of children with special needs. With the help of a special needs educator and board certified behavior analyst, Kim has created this workbook specifically to help children with special needs learn to sleep. This Workbook is easy-to-use with a clear step-by-step to get your child to sleep.