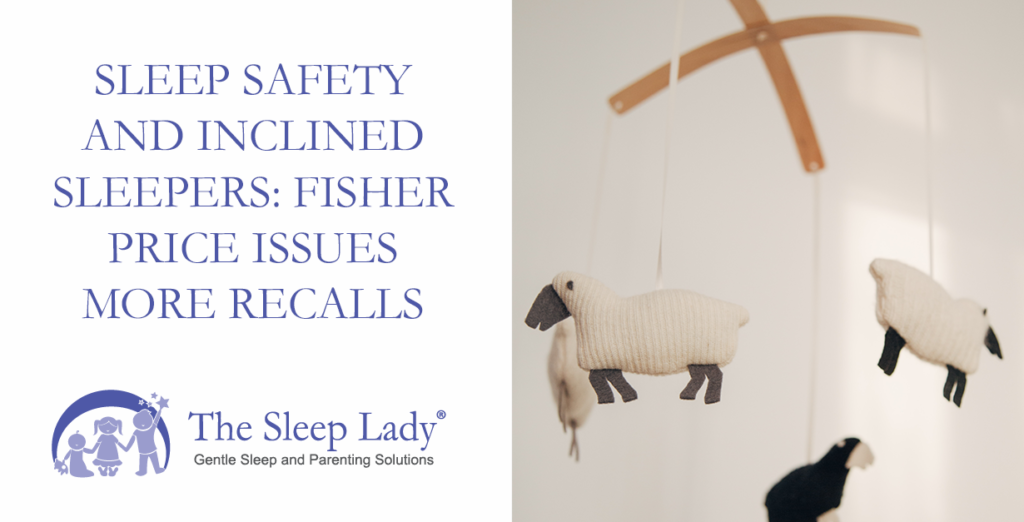 If you've been paying attention lately, you've probably heard that Fisher Price recently recalled their popular "Rock 'n Play" due to safety concerns. The baby products giant has now recalled the sleeper portion of their Ultra-Lite Day & Night Play Yard, raising general concerns about sleep safety and inclined sleepers.
READ: Fisher-Price Recalls More Inclined Sleepers Due to Safety Concerns
This product hasn't reported any injuries, but the company is staying on top of the CPSC (Consumer Product Safety Commission)'s recommendation against "inclined sleep products."
Read on to find out why inclined sleepers are out, and what to use instead.
What is Unsafe about Seats?
Car seats, swings, rockers, and other products that are designed to hold and soothe infants are not safe once the baby falls asleep. Very young babies' heads can fall forward and cause breathing problems. As babies age into rolling, babies can roll out or roll into the sides of the product.
At this point, the CPSC is attempting to change the labeling and category of all of the "inclined sleepers" on the market. They want to reevaluate them, while other groups are asking for the category of "inclined sleeper" to be eliminated from the market altogether.
Where is the Safest Place for a Baby to Sleep?
What now? The AAP (American Association of Pediatricians) recommends the following sleeping environment for newborns and babies:
On his back
Firm, flat surface such as a bassinet or crib with no soft bedding, blankets, pillows, crib bumpers, or soft toys
Tight-fitting sheet
Share a bedroom (but not sleep surface) with parents at least the first 6-months and up to a year
READ: Safe Baby Sleep — 8 Safety Tips for Infants and Babies
Safe Sleepers
The AAP recommends babies room with their parents for up to the first year. But fitting a crib next to your bed might be a stretch! And since sleep safety and inclined sleepers are not compatible, these companies have come up with safe solutions for your new bundle of joy. She can be within reach, while snug and safe.
SNOO Smart Sleeper by Happiest Baby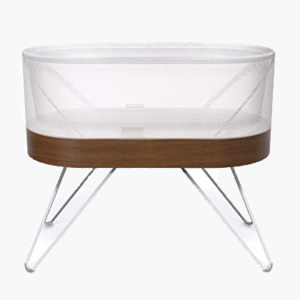 It detects crying and soothes with motion and white noise. What could be more convenient? The Snoo keeps baby on his back, uses an app to adjust motion and sound, and even logs sleep.
The Snoo even responds to cries by increasing the white noise and motion.
Retail: $1298 (SALE $906)
Buy It: Snoo Smart Sleeper
Baby Bjorn Cradle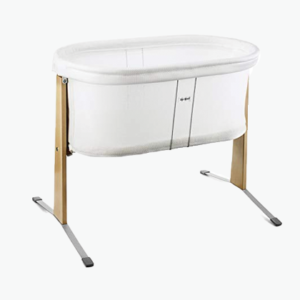 Baby Bjorn made a name for itself in the world of baby carriers. Now they're forging ahead with this rocking bassinet. The Baby Bjorn boasts mesh, breathable sides and a gentle rocking motion.
The cradle works from newborn to about 6 months (17 pounds).
Retail: $339
Buy it: Baby Bjorn Cradle
Halo Bassinest Swivel Sleeper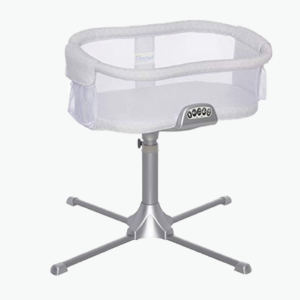 Breastfeeding? Room with your newborn in convenience. The Bassinest by Halo rotates 360 degrees and the walls lower so you can meet her needs instantly. It also has a height adjustment to make it perfect next to your bed. Bassinest offers soothing sounds and movement.
Retail: $265
Buy it: Halo Bassinest
Lotus travel Crib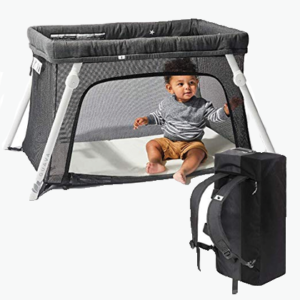 This advanced play yard folds into an airport-friendly backpack and sets up in 15 seconds. Even with a crying, sleepy baby, that's fast! A convenient lockable side-zipper allows access from down low as well as over the top.
Designed for use from birth to around 3 years-old.
Retail: $250 (SALE $209)
Buy it: Lotus Travel Crib
SwaddleMe By Your Side Sleeper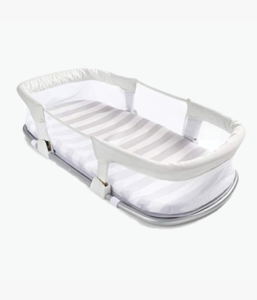 If you're looking for a compact and safe way for your baby to share your bed, the SwaddleMe By Your Side puts your little one in a protective shell, easy to access for nighttime feeding. Mesh sides allow air circulation for safety and to prevent overheating.
This sleeper works from newborn until baby pushes up or rolls over.
Retail: $54
Buy it: SwaddleMe By Your Side Sleeper
What About Those Recalls?
For a list of recalled products, check out this handy recall finder tool from Parents Magazine: Recall Finder
As for the inclined sleeper? The AAP advises that if your baby falls asleep in a stroller, car seat, swing, or other device, move them immediately to a safe, flat surface.
Pin For Later: