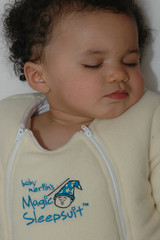 Guest Post by Maureen, creator of the Magic Sleepsuit
Just as babies need the swaddle to transition from the womb, they also need a means to transition from the swaddle. At a certain point, babies get to a point when they are ready to be transitioned from the confines of a swaddle, but are not ready for complete freedom of movement ("cold turkey").
The Moro Reflex
Their Moro reflex (also known as the startle reflex) is still present and often wakes them prematurely so they still need a cozy, contained feeling to aid in their sleep and muffle those reflexive startles. So, what is the answer for this stage? The Magic Sleepsuit®!!!!
What Makes The Magic SleepSuit® So Special?
• The Magic Sleepsuit is a patented swaddle transition product that provides babies with a cozy, calming, and safe sleep environment.
• The innovative Magic Sleepsuit is designed for babies who are transitioning out of the swaddle, yet still need that cozy and contained feeling to help them sleep.
• It is designed to be introduced at approximately three months of age when most babies are growing out of swaddling.
• The Magic Sleep Suit ® also helps if your baby is transitioning into larger more spacious cribs from a smaller sleep environment (such as a cradle, bassinet, etc.).
• Using a transitional product after being swaddled may help your baby be able to sleep for longer stretches without parental intervention (holding, nursing, rocking, etc.).
• The Magic Sleepsuit provides babies with the comfort they need by helping to muffle their twitches and startle-type movements that can wake them prematurely.
• Using a transition product keeps your baby cozy and secure, making it easier to go to sleep on their own or fall back asleep if woken.
• The Magic Sleepsuit is designed to help with baby's sleep patterns, but also gives the parents and/or caregivers peace of mind that their baby is getting adequate rest necessary for appropriate growth and development.
When Does Your Baby Need ToTransition…Again?
It is recommended that babies transition out of the Magic Sleepsuit once they are able to roll over in it, since this is typically a sign that they are ready for more movement in their sleep. The Magic Sleepsuit is specifically designed for the back sleeping position, which is the current American Academy of Pediatrics' recommended safe sleep position for babies.
Safety First
One huge benefit of The Magic Sleepsuit is that it prevents the need for loose blankets like other wearable blankets on the market, such as sleepsacks and sleeping bags. Unlike a sleepsack, the Sleepsuit provides a unique contained, secure feeling that is soothing and facilitates sleep.
The gentle weight of the fabric is another unique feature that provides sensory input to calm the twitches and involuntary movements that can wake baby prematurely, which allows babies to sleep better on their back for longer periods of time.
Create A Positive Sleep Association
Making The Magic Sleepsuit a consistent part of baby's sleep routine also helps babies associate it with sleep. This can be a major benefit when traveling, as a pack-n-play (or travel crib) can be a strange environment.
Using the familiar Magic Sleepsuit when your baby is away from home, can help baby relax for sleep in an otherwise stimulating environment.
Maureen is a mother of four, and a pediatric physical therapist who created The Magic Sleepsuit with love.
She is thrilled that her invention has helped thousands of babies (and their parents) find the gift of sleep!