Cosleeping with Multiple Children: The Family Bed
A family bed — a fancy name for instances when parents are cosleeping with multiple children in a 'family' bed — is quite common. Although not many families talk about it, they do need to consider what happens when another baby is introduced into a family bed. You probably won't be surprised to learn that experts do not recommend that infants and toddlers share the same bed. Given that there is a safety issue, is there a solution that works for everyone? Let's talk about:
Safety
Creative room sharing
A newborn "cosleeper" or bassinet
Get another mattress
Move the toddler to their own bed

Safety of Cosleeping With Multiple Children
Bedsharing with an infant and a mobile toddler is not safe, nor is it recommended, as the toddler could inadvertently hurt the baby. No one wants that, so I highly recommend that you examine your sleeping arrangements and choose a safe option that works for your family.
There are a few solutions that will allow you to either continue to safely co-sleep or room share with multiple children. When bed sharing with any child, please ensure that you are practicing safe co-sleeping with all of your children, infants and toddlers alike.
Consider Creative Room Sharing
Rather than cosleeping with multiple children, consider roomsharing with your newborn. The rest of your family could continue with current co-sleeping arrangements, and your newborn would be in the same room, allowing fast response times, and closeness for the whole family without endangering your infant. If this seems too extreme, you may consider a sidecar for your bed, such as a co-sleeper.
Want to know the latest recommendations on roomsharing?
Read: Room Sharing For The First Year: Is It Right For You?
Use a Co-Sleeper
Arm's Reach makes a fantastic co-sleeper bassinet that hugs your current mattress, allowing your baby to be part of the bed, without actually being in your bed. Then, rather than cosleeping with multiple children, you're sleeping with one and have the other beside you. If you aren't in a traditional bed — maybe you're using a mattress on the floor — consider a bassinet that can sit on the floor. Instead, you may want to consider adding another mattress to the mix.
Wondering about cosleeping and roomsharing?
Read: Co-Sleeping and Room Sharing – Tips for Sleeping Safely
Get Another Mattress
You may have been able to sleep in your king or queen with one child, but you'll be adding another person — one who needs to sleep well away from your toddler.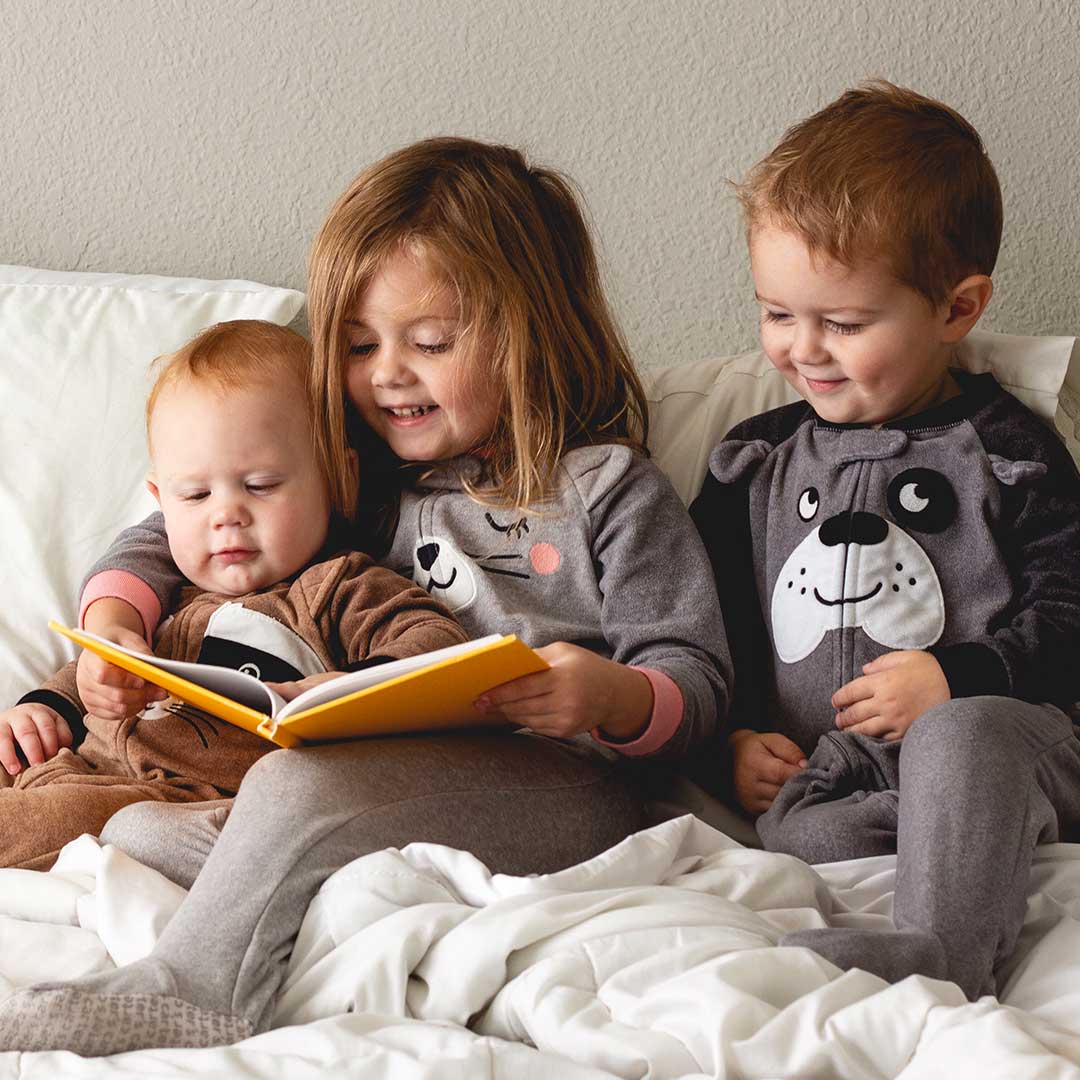 One solution may be to purchase an additional mattress, and have one parent co-sleep with the older child (or children), and mom sleep with baby. This would ensure that an active toddler is not near the baby during the night. If your toddler is showing signs of readiness for their own bed, now would be a good time to gently shuffle your sleeping arrangements.
When it comes to co-sleeping, we are passionate about finding a solution that feels right for you.
We're the only online sleep training course that addresses co-sleeping - whether you want to end it or safely continue. Register for Gentle Sleep Solutions today to start getting the sleep your family needs!
Get More Info
Transition Your Toddler to Their Own Bed
If your toddler is asking about, or has shown an interest in a 'big kid' bed, consider moving your toddler into their own bed. You can do this in their own room or in the same room.
This is a move that you will want to make well before baby arrives, both to help your toddler adjust to the new sleeping arrangements, and to avoid your toddler feeling that they've been ousted from the family bed.
Whatever method you choose, I strongly encourage you to do your research, and lots of it. Make sure that if you are cosleeping with multiple children, you're doing it safely. The most important part of any arrangement is that you are all sleeping!
Moving your toddler to their own bed?
Read: How To Stop Cosleeping: Transitioning Your Child to a Bed