Good Night Sleep Tight Books and Guides
Best-selling Book, Workbooks, and Free Sleep Guides
BOOKS
WANT TO LEARN MORE ABOUT YOUR CHILD'S SLEEP?
As parents, we have the responsibility to teach our children how to sleep. While we can't promise no crying in this teaching process, we can promise that we won't tell you to leave your baby to cry it out alone. What we will teach you is how to get your child to fall asleep independently. Teaching this skill may seem difficult or impossible – but we promise you it is doable!
This is where we step in. Our best-selling sleep training books have helped hundreds of thousands of families finally get the sleep they need. In our best-selling book, The Sleep Lady's Good Night Sleep Tight we take you step-by-step on how to sleep train babies as young as 6-months and children as old as 6-years. The accompanying Good Night, Sleep Tight Workbook will get you right to the nitty gritty in creating a sleep plan for your child. Kim has also partnered with a special needs educator to bring a Good Night, Sleep Tight Workbook specifically for children with special needs. Whatever your need, we have the tools you need to be successful in sleep training your child.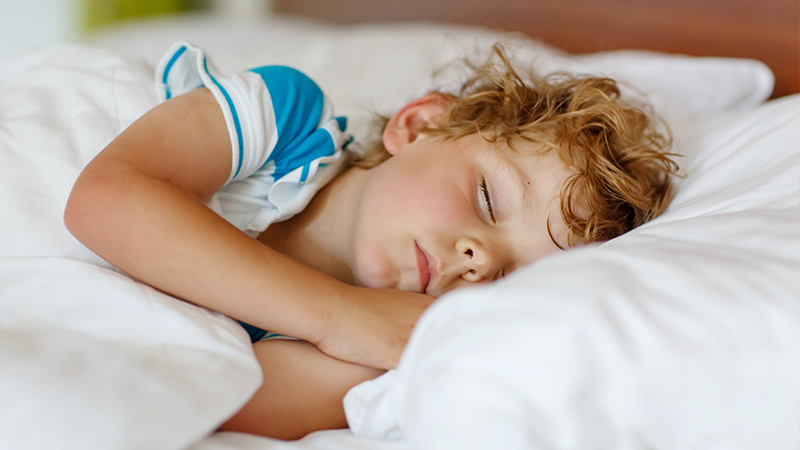 OVER 140,000 COPIES SOLD
THE SLEEP LADY'S GOOD NIGHT, SLEEP TIGHT
Kims' best-selling book can guide you when navigating newborn sleep and beyond. For newborns, the book helps you focus on setting yourself and your newborn up for sleep success. There is plenty you can do for your little sleepyhead now, even if they aren't developmentally ready to be coached to sleep. The book will guide you to gently shape your newborns' sleep habits by teaching soothing techniques, how to create a sleep friendly environment and a soothing pre-sleep routine. In the future, it will serve as a great guide to sleep train your baby when you are both ready.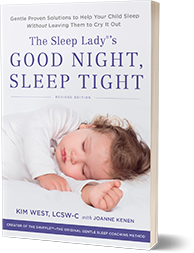 I find crying it out (CIO) and Ferber to be rather brutal approaches and wanted something much gentler with minimal crying. This did the trick…
– Katclimber: AMAZON Top Contributor: Baby
Buy the Books at Amazon
WANT MORE OUT OF GOOD NIGHT, SLEEP TIGHT?
GET THE COMPANION WORKBOOK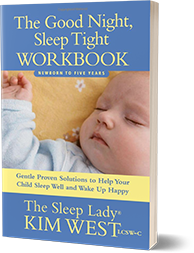 This workbook is an essential companion to the best-selling book, Good Night Sleep Tight. The book includes a step-by-step guide for parents, is organized by age and process, and is the key to sleep coaching success. The Workbook can be used as a standalone guide and includes all of the essentials right inside the book, such as lists, plans and logs to help tired parents with children of any age who are experiencing sleep problems.
SLEEP HELP FOR CHILDREN WITH SPECIAL NEEDS
GET THE COMPANION WORKBOOK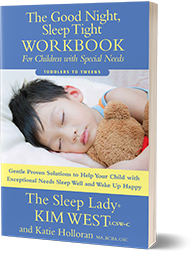 Over the years as more and more families have found success with Good Night Sleep Tight, Kim West has noticed a need for parents of children with special needs. With the help of a special needs educator and board certified behavior analyst, Kim has created this workbook specifically to help children with special needs learn to sleep. This Workbook is easy-to-use with a clear step-by-step to get your child to sleep.
GET STARTED WITH ONE OF FREE GUIDES
FREE SLEEP GUIDES FROM THE SLEEP LADY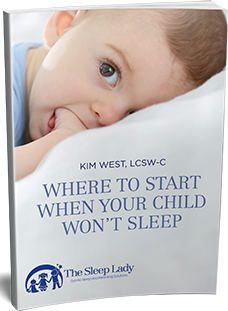 Exhausted? Is your child not sleeping? Confused on where to start? Whatever the age of your child, we're here to help. Download our free 17-page guide to get you started on your family's sleep journey.
Click Here to Download
"Where To Start When Your Child Won't Sleep"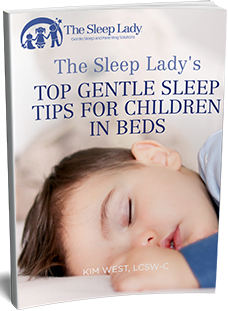 Get our expert advice on coaching your child in a bed to sleep without crying-it-out, power struggles or headaches in our FREE E-Book.
Click Here to Download
"Top Gentle Sleep Tips for Children in Beds"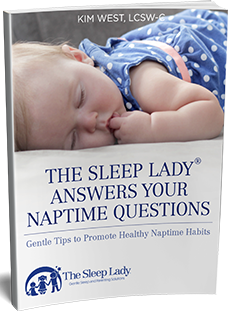 Napping and toddlers don't always go hand-in-hand. Get our expert advice on nap training toddlers with our FREE Download, The Sleep Lady Answers Your Naptime Questions.
Click Here to Download
"Answers To Your Naptime Questions"
DOWNLOAD OUR FREE GENTLE SLEEP APP
BABY SLEEP LOG, BABY DATA TRACKING, AND SLEEP CONTENT!
When sleep training your baby or child, it is so helpful to keep track of their sleep patterns. For baby's specifically, it's beneficial to keep track of feedings and changings as well. This is why we created the Gentle Sleep App by Evoz – so parents can have an easy-to-use resource right on their phone. The app includes timers for naps, wake-time and feedings. Plus, parents can securely share data logs with caregivers and vice versa.
The app also includes resources like a schedule overview based on your child's age. You'll also have access to exclusive videos, articles, and tips straight from Kim West LCSW-C, The Sleep Lady®.