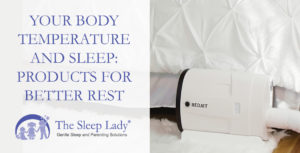 There's no question that having a baby interferes with sleep for everyone in the home. Late nights, overnight feedings, early mornings, and the general sleep patterns of an infant are not great for adults. Of course, there are those postpartum night sweats to deal with too — often a new mom isn't just awake because of the baby. It turns out that your body temperature and sleep are closely related. If you can regulate it better, you're in for a much more restful night.
Body Temperature Affects Circadian Rhythm
Your circadian rhythm regulates many of your body's most important functions. Your heart rate, hormones, blood pressure, and body temperature, as well as sleepiness, are internally regulated by it. Circadian rhythms can also be affected by outside stimuli such as sunlight or temperature.
In a 24-hour period, your internal temperature fluctuates a few degrees. It can range anywhere from 96 to 100 degrees, with 98.6 being the average. When it's time to go to sleep, your body naturally cools to the lower end of the range. In the morning, it rises to signal that it's time to wake up.
At bedtime, when the external temperature is too cold, your body uses extra energy to stay warm. When it's too warm, your body is fighting overheating. And that's not considering night sweats common to postpartum moms.
Calm and Cool is the Rule for Sleep
Experts recommend keeping your sleep space cool, dark, and calm. Keeping a regular bedtime, limiting exercise, alcohol, and screens before bed, and watching daily caffeine use are all sleep hygiene recommendations repeated by professionals in the field.
Since body temperature and sleep are so integrated, what can you do to regulate that external temperature? The question is even harder when there are two of you who might not agree on where to set the thermostat. Luckily, we found two excellent solutions. The BedJet® cools and heats you through your duvet or top sheet, and the Chili Pad Cube™ heats or cools you from underneath your fitted sheet.
Read more about  BedJet® and  ChiliPad Cube™  here:
The BedJet®
The BedJet® works by pulling the coolest air in the room from the floor. It sends a quiet stream of air using convective and evaporative cooling to keep you comfortable in bed. Sleep Lady team member Jessica had a chance to test-drive the BedJet®. Here's what she had to say:
I'm a first-time mom with a busy toddler. I've experienced severe postpartum night sweats for the last 17 months. Not only that, I'm on medication for postpartum anxiety with the side-effect of — you guessed it — night sweats. Losing sleep after a baby is expected, but when it stops being the baby's fault, that's miserable. Learning that Bet Jet might help me with my body temperature and sleep was practically a dream come true, and I was excited to try it out.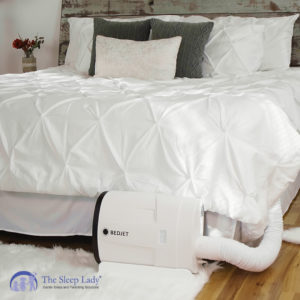 Using the BedJet®
Set-up was simple. I have a California King bed and the motor easily fits underneath my bed frame. Its slim profile stays discreetly tucked under my duvet cover and sheets.
It was easy to download and configure the application — BedJet® immediately connected to my iOS device. I love having the option to use this feature-rich app. I nearly burst into tears when I read the setting, "Nightsweat Dry".
You can set the exact temperature and air flow, and save the settings. It is truly custom in every way. It's amazing to be able to choose a custom setting depending on the season and weather!
The Single BedJet® V2 can cool or warm one side of the bed — that's what I tested. They also have a full BedJet® V2 that can custom cool or heat both sides.
Temperature and Air Flow
I previously tried a mattress fan that my husband gave me for Christmas last year. I was so excited to finally have a night sweats solution, but unfortunately it didn't work as expected. BedJet® not only has an air flow control, but it literally blows up your bed and sheets at 100% so you have complete control on how much hits your body. Its quiet operation is a soothing background noise similar to your HVAC.
In addition to airflow, BedJet® controls the temperature, and that's a key feature. I assumed that if I was having night sweats, then I needed a fan to cool me off. With Bet Jet I quickly learned that I need to set my temperature between 83-87 degrees with 65% air flow to sleep comfortably all night long. I started with the pre-set that the Bet Jet app provides called "Nightsweat Dry" to see how that felt. It was nearly perfect.
I would recommend Bet Jet to anyone, even without night sweats. If you live in a cold environment, climbing into a cold bed during winter is the worst!  The "turbo" setting shoots a 109-degree air at 30% air flow for 5 minutes. During the hot summer months when your house gets up to 78-79 degrees, BedJet® would be a perfect way to sleep through a hot summer night.
The Single BedJet® V2 can cool or warm one side of the bed — that's what I tested. They also have a full BedJet® V2 that can custom cool or heat both sides.
Check out all the BedJet® products, here.
The ChiliPad Cube™
The ChiliPad sits on top of your mattress and has a temperature range of 55 to 110 degrees. It works by circulating water through a network of tiny tubes. A Single Zone ChiliPad Cube ™ uses a mattress pad and a cube unit that allows one person to control the temperature on their side of the bed. That's perfect for the new mom with night sweats, or when one person doesn't have any sleep obstacles.
The Dual Zone ChiliPad Cube ™ works the same way, but incorporates two cubes and one pad, allowing each person to control their own temperature on their side of the bed.


Both ChiliPads come with a controller that allows you to change your temperature without disrupting your partner. They fit any mattress and sit underneath the fitted sheet on your bed. The product comes in standard bedding sizes, with a 90-day satisfaction guarantee and a 2-year warranty. You can browse ChiliPad products, here.
The ChiliPad Cube ™ is endorsed by sleep expert, Michael J. Breus, PhD. Dr. Breus is a Fellow of the American Academy of Sleep Medicine and Diplomate of the American Board of Sleep Medicine. Read more about Dr. Breus, here.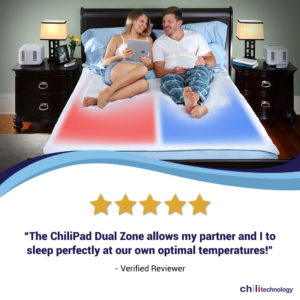 Body Temperature and Sleep go Hand-in-Hand
Getting yourself and your partner to the right temperature at night can mean many more happy mornings. If you have an infant or young baby, they'll eventually be sleeping. Postpartum night sweats will also subside. But proper sleep temperature will keep you comfortable and rested for the long haul.