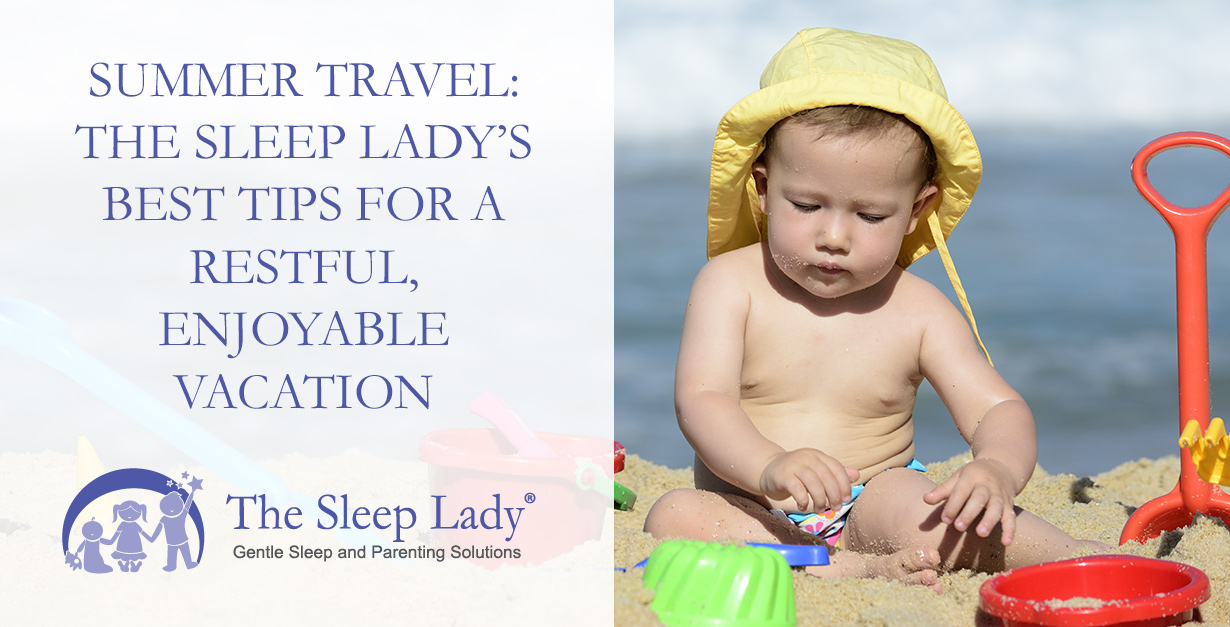 This article originally appeared in US News and World Report
Time for a summer vacation? When you imagine traveling with small children does it feel daunting, even potentially miserable? It doesn't have to be. You can travel in a way that's restful for your kids—and you. Here are my eight best summer travel tips to help prepare you and your child for your best summer trip yet:
Start well-napped.
The time right before you leave for vacation can be a harried, as you make lists, run last-minute errands and pack bags. In the midst of this, it can be tempting to miss or shorten your child's nap. Try to avoid this, and instead have the goal of beginning your trip with a well-napped child. The following days will inevitably involve some extra stress and change in routine, and a well-rested child will be able to endure these changes much better than one who is already tired and on the edge of cranky. Parents, too, should aim to start the trip well-rested.
Pack a little bit of home.
Bringing a little bit—or a lot—of home can really help your young child travel more easily and sleep more soundly. Since you never really travel light with children, go ahead and bring the white noise machine, your child's own bedsheets and blanket, a favorite storybook and a few small, well-loved toys. The familiar smell of his sheets and toys as well as the comfort of a lovey, a storybook, and a white noise machine can smooth off the rough edges of summer travel and make it easier for your child to sleep.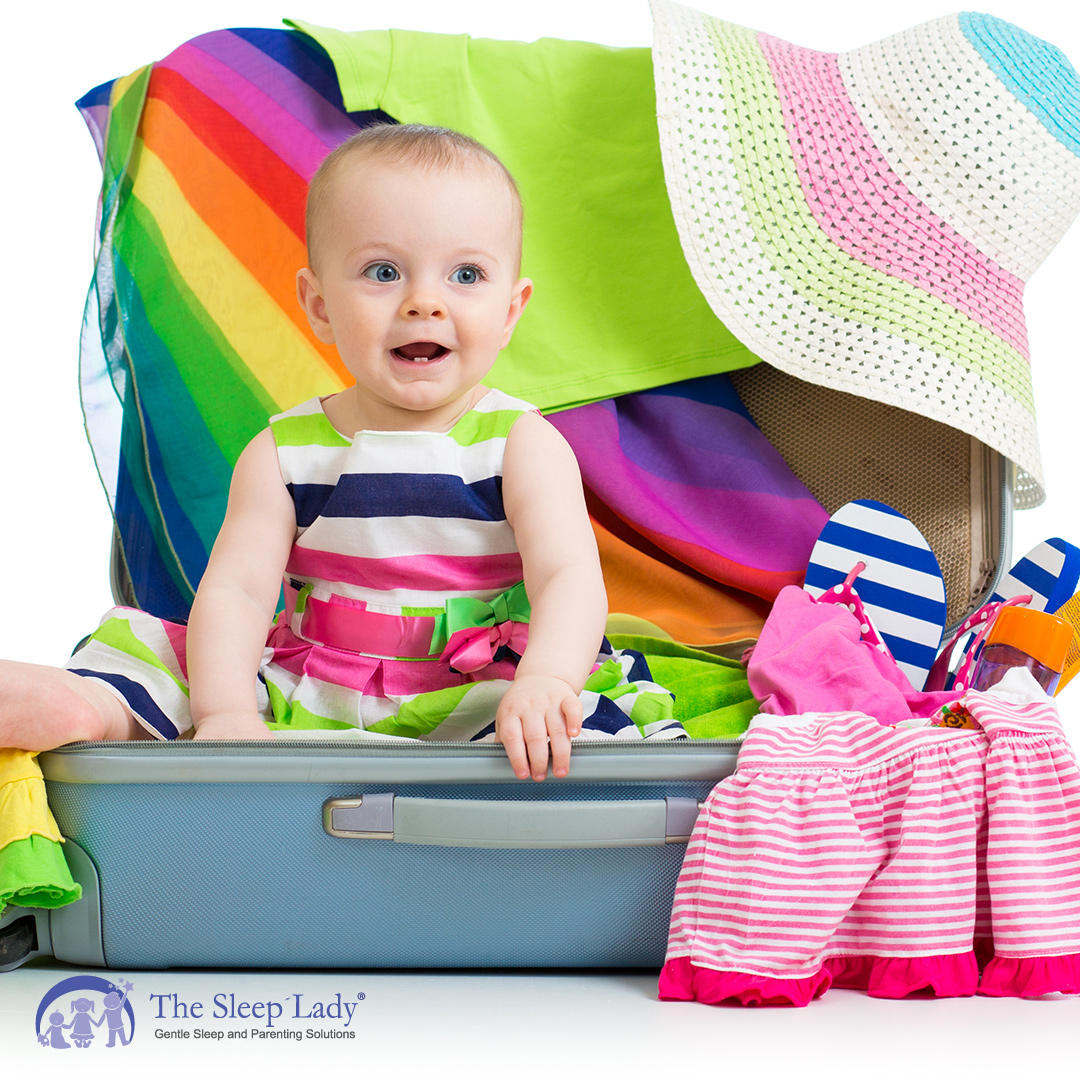 Get your game on.
You'll need your best game face and bag of tricks for a long ride in the car. Be prepared with a list of standbys, such as peekaboo, patty-cake, tickle games, and car seat link toys. Be sure to spend some time sitting by your child's car seat while she is awake to interact and play games together. Your older children should bring crayons and coloring books, or paper and other toys. Lastly, before you leave, you can check out some age-appropriate audio storybooks from the library for children over 3 years old.
Stay tuned in.
Distractions will abound while traveling—new sights and sounds, family members, fun and once-in-a-lifetime events. This is part of why you take a break from normal life. The downside of this is that it's very easy to lose track of your child's eating habits, sleep schedule, and especially his sleepy cues.
A child's sleepy cues are the signs he typically gives when he begins to get tired. If you study your child, you will notice his typical behavior just as he gets tired and is ready for sleep: He may stop playing, quiet down, pull his ears, rub his eyes, become cranky, or begin to stare. Knowing and watching for your child's sleepy cues will help you move to bedtime before he becomes overtired and has trouble settling down to sleep. During summer travel, you should stay vigilant, watch your child for his sleepy cues, and move to nap or bedtime right away—even if it's not according to schedule. Children typically get tired more quickly in new situations, so watch for cues instead of just watching the clock while away from home.
RELATED: Traveling Through Time Zones
Plan for extra sleep.
While traveling this summer, your child will likely need some extra sleep. We all get depleted a little sooner, even when we are seeing fun things or spending time with people we enjoy. Add in a few things we don't particularly enjoy—a strange bed, long drives in the car, a different diet—and our bodies become sapped even more quickly. So, plan for your child to nap a little longer or take an additional nap every day or two. Get them to bed either on time or even a little early when you can. The extra sleep will make everything run more smoothly the next day.
Plan on spending extra time helping your child get to bed. When you arrive at a new location, even if its Grandma's, let your child spend some time exploring their new room. Then at bedtime, plan on spending extra time helping your child settle down by extending your normal, soothing bedtime routine. Read a little more, snuggle a little longer, and stay nearby your child as she nods off, even though you may not do that at home anymore. Your child may feel some extra stress in a new place and will need your presence and loving care to help her go to bed and stay asleep.
Maintain a consistent sleep space.
Whenever possible, stay in one place over the course of your summer vacation. Take day trips to visit various family members or destinations instead of moving from house to house or hotel to hotel. The first day or two may be bumpy at bedtime, but eventually the new place will feel "routine," and your child will go down more easily for naps and bedtime. Also, bring a Pack 'n Play along with you if you're unsure what kind of sleep space will be available for your child. The consistency of the same bed and the same room will go a long way toward helping your child feel more secure at bedtime and getting to sleep more easily.
Some parents choose — or just end up — sharing a bed with their child on vacation. If this isn't your normal routine at home, just make sure you let them know that you'll be going back to your normal routine once you get back.
Prepare for time zone changes.
Will you be changing time zones? If you are traveling to a different time zone where you'll be putting your children to bed later than normal, take a week to slowly shift your entire routine later in 10- or 15-minute increments. That means bedtime, naptime, and mealtimes.
If you're traveling to a time zone where your children will be going to bed earlier than normal, take a week to slowly shift your routine 10 to 15 minutes earlier each night over the course of a week. Doing this ahead of your travel dates ensures that your children will already be acclimated to the new time zone when you arrive, making sleep a bit easier for everyone.
No way to make these adjustments over the course of a week? Get your child up at his usual wake-up time on the day that you leave for vacation, your first morning in your new time zone, and when you get back home. If he wakes up at 7 a.m. Eastern at home in Washington, wake him at 7 a.m. Pacific time in Portland, and then when you get back home to Washington, wake him at 7 a.m. Eastern time. This one change will assure your child is tired for his naps and bedtime after all that travel.
Have a Great Trip!
Doing just a little bit of prep will go a long way toward ensuring a smooth start to your trip. You won't be able to avoid every travel bump, but you can eliminate a lot of them with some preparation and smart thinking while traveling.
My best piece of summer travel advice is to stay flexible. Surprises happen when you're away from home and that's part of the adventure. Roll with the punches, and then just get back to your normal routine as soon as possible, and make time for your child's sleep needs. This will make your child—and everyone else in the family—happier.