The makers of 2breathe are generously awarding two lucky readers a 2breathe device, coaching, and support in return for answering the sleep survey for school-aged children.

Sleep and Elementary Aged Children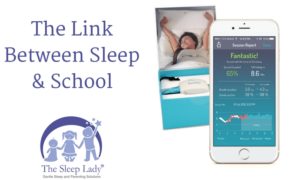 Do you have an older child who is having continual difficulty falling asleep? According to the Sleep and Behavior Problems in School-Aged Children Study by the American Academy of Pediatrics, an incredible 50% of elementary school children report that it occasionally takes them more than 30 minutes to fall asleep. One in four children report having difficulty falling asleep at least once a week.  An additional 10% of children report suffering from the inability to fall asleep on a nightly basis.
We interviewed a smaller group of 36 children at a Tel-Aviv elementary school. Our small sample mirrored the results found by the AAP. These children reported that they were unable to get to sleep at night for a variety of reasons.  The most common sleep preventions were racing thoughts, fears, anxiety, and discomfort regarding being separated from their parents.

A New Device to Help
 
For us these facts admittedly came as a surprise. We initially invented RESPeRATE as the first non-drug hypertension treatment device.  It uses guided breathing technology to improve patient's blood pressure. While we were thrilled with the results our adult users were having in lowering their blood pressure, we discovered one "side effect" – 90% of users also reported that RESPeRATE improved their sleep. In fact, many users reported dozing off while using their device!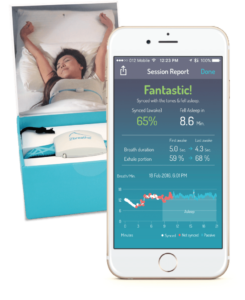 We decided to adapt the guided breathing technology to specifically assist with sleep problems. Thus, 2breathe was born.
2breathe combines a belt worn to track your breathing with an app. The belt sends your breathing pattern to the app which composes tones to guide your breathing. These tones help prolong your exhalation and slow your breathing until you are drowsy and soon, asleep. Once you have been asleep a few minutes, the app automatically shuts off. The next day, you can view a report showing how effectively you are falling asleep.
Watch this video to see 2breathe in action!
During our 2breathe beta trial, we gave devices to adult friends and family who had difficulty falling asleep. After finding success themselves, unbeknownst to us, they began giving the devices to their struggling school aged children.

Sleep Success

Adi was one of those mothers. Her son, Liam, 10 years old, was part of the 10% of children struggling to sleep on a nightly basis. Before using 2breathe, it took him an average of two hours to fall asleep each night. This was not only stressful for Liam and Adi, but was taking a toll on the entire family.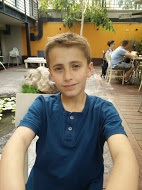 Since he has been using 2breathe, he and his family have witnessed dramatic changes. His Dad says, "Liam feels empowered and no longer fears going to sleep. Instead of getting frustrated and driving the entire house nuts, he now just simply turns on his iPhone, switches to airplane mode to reduce the cellular radiation, and puts on the sensor.  With the press of a button, he starts breathing to the tones. A few minutes later…..he's asleep. It's even become a fun event in the morning when he reads the session reports and brags about how quickly he fell asleep and challenges himself to 'beat' his previous record."
Although we didn't anticipate or plan for this, we are nonetheless thrilled that 2breathe is proving so successful with older children!
We recommend you consult your child's pediatrician to verify there are not underlying medical conditions contributing to your child's sleep problems. Once cleared by a doctor, we believe 2breathe can be a great tool to help your school-aged child sleep more easily.
We have learned so much about sleep in both children and adults from our users, and have found the information we have gleaned fascinating. We look forward to continuing to learn and develop that information to provide relief to those struggling with sleep.
a Rafflecopter giveaway


Erez Gavish is the co-founder of  2breathe the smart device that guides breathing to induce sleep and RESPeRATE the world's only FDA-cleared hypertension treatment device. Erez is a health-tech entrepreneur and one of the pioneers in the field of digital therapeutic devices, first in hypertension (www.resperate.com, @resperate) and now in sleeplessness (www.2breathe.com, @2breathe4sleep).
He passionately creates products at the intersection between breathing and technology to help us resolve conditions stemming from our hectic, modern lifestyle. Together with his father, Dr. Benjamin Gavish, Erez created a new-to-the-world medical category of non-drug hypertension treatment devices, used by hundreds of thousands of patients and which is featured in the American Heart Association statement on non-pharmacological treatments.
RESPeRATE's one "side effect" was that users reported dozing off during sessions and improved overall sleep. So, they adapted the technology for smartphones and created the 2breathe platform to induce sleep.
Erez holds B.Sc. in Industrial Engineering from the Technion, Israel and an M.B.A. from Tel Aviv University. He spoke most recently about sleeplessness at the National Sleep Foundation's  Inaugural Sleep Technology Summit & Expo and the Consumer Electronic Show (CEO) panel on sleep.