 How Can a Gentle Sleep Coach Help You? with Georgina Gonzalez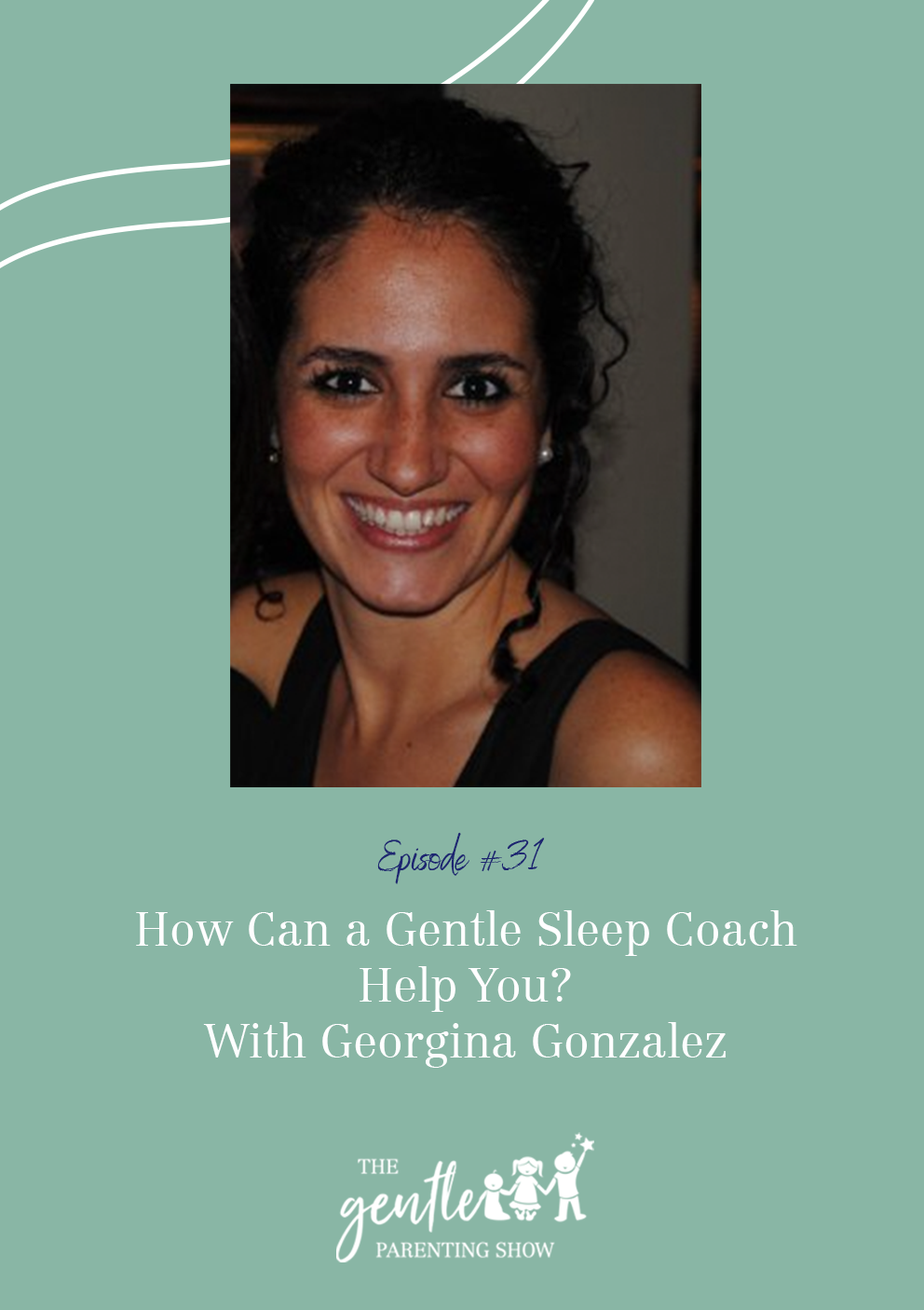 In today's episode of the Gentle Parenting Show, Kim is joined by one of her certified Gentle Sleep Coaches, Georgina Gonzalez. Georgina was a previously sleep-deprived mother who is passionate about wellbeing, building meaningful relationships, and helping parents navigate the trials of parenthood. Georgina was saved by a Gentle Sleep Coach when her life turned really dark and sleep-deprived. She then became a Gentle Sleep Coach herself so she could give that same gift of sanity to other families. Today Kim and Georgina talk about how to navigate the trials of parenthood and share how a Gentle Sleep Coach can help change your parenting.
Georgina's Sleep Coaching Story 
Georgina had decided early in life that she never wanted kids. After a few years, a divorce, and second marriage she decided it was time to be a mom. When her son was born, she had so much happiness, but sleep hit her really hard.
The lack of sleep destroyed her. It was something really challenging for her family. She found herself crying every naptime and bedtime, just knowing she was going to wake up soon. She didn't want to even put her baby to sleep, knowing it would end soon. Her son was a very alert child from the start. He was very aware of all his surroundings, which made sleep difficult. Georgina didn't know anything about sleep coaching or sleep training, she just thought she had to muscle through the lack of sleep. 
Georgina had sleep books recommended to her, but she thought there was no way she had the time or energy to read a book. She could hardly even shower! The one recommended book that she read was Kim's book – The Sleep Lady's Good Night, Sleep Tight. She found herself looking for the time and energy to ready it, that's how much it resonated with her. 
Trying the Sleep Lady Shuffle with a Gentle Sleep Coach
Georgina knew she couldn't live sleep-deprived much longer. But, she couldn't mentally handle making a plan and following through. She found out, by mistake, that there were Gentle Sleep Coaches available. She found a coach in her own area of the world. She ended up hiring the coach and "I can't explain how amazing, how incredible and how different it was for my son and us to work with a coach. It changed how I saw myself as a mother." 
She started to see light and joy and something that was previously a horrible experience had really been turned around. The lack of sleep had led to depression for Georgina. She didn't want to feel irritable, cranky, and impatient. She didn't even want another child after the miserable experience with her first. She said, "when we teach sleep to our kids, we learn a lot about ourselves, and then it frees us up to be the parent we want to be."
Fears and Questions about a Gentle Sleep Coach 
Kim herself said that she's had many sleep clients who have her book, but they're too tired to read it. She totally gets that – and if you find yourself in that situation, you don't have to read the book from front to back! But, both Georgina and Kim agree that it can be hard to read a book and take a course, and sometimes you just want the ease of hiring someone to help! But also, you don't need to wait for it to get to a miserable point to hire someone. 
When Georgina was in her depression and struggling with sleep with her 9-month old, she was waking up every 40 minutes. She was living in Singapore and traveling to the UK often. In the culture where she was living, there was a stigma about hiring help with your child. But, Georgina wants to advise anyone in the situation that it's ok to find help. You can't continue living like this. Don't listen to what others say about having help or sleep. There's a lot of negativity out there telling you you're a bad parent if you don't have a child sleeping well. Tune them all out. 
"It's important to tell all parents out there that in your heart if you feel that the situation you have in your family doesn't feel good or right, reach out and do something to change it. Don't just accept that this is how you need to live forever." 
Using a Gentle Sleep Coach to Help Your Partnership
It's a shame that in the world of parenting, there's judgment everywhere. It would be nice if all parents could just support each other and create a tribe of supportive parents. Even if it's just one friend, we can help support each other through it. 
Georgina started with the Shuffle because she wanted to create a secure attachment which is the cornerstone of a healthy emotional relationship. Starting with a gentle method will help parents feel less afraid when hiring help. 
A lot of partnerships can be torn over sleep. One partner might be in support of hiring help while the other might be against it. A well-trained Gentle Sleep Coach should help both partners see how much they're suffering. Be patient with each other, with your child, and with the process. If parents don't have support from each other or outside help, try a coach. Kim says that a coach holds the light at the end of the tunnel and that parents will eventually see it. "A coach will believe in you, even when you can't believe in yourself." This isn't only for sleep, but for every aspect of parenting. 
Gentle Sleep Coaches Help With More than Sleep 
Kim asked Georgina what else she got from the journey of working with a Gentle Sleep Coach. The biggest thing Georgina got was hope. When her child started sleeping, she got hope as a mother and was able to take better care of her own child. It wasn't that she didn't know her kid, she just didn't know the basics of sleep. Now, she understands. 
Georgina says "this is actually motherhood, it's getting through the challenges. It's not not having challenges, it's getting through them and knowing there's a way." Working with a coach helped Georgina realize that for any issue with her child, she had to find a solution, do it, apply it, fix it, and improve it. If her kid isn't eating, pooping, sleeping, sharing, she knows she can get help for that. You can listen to a podcast, find solutions and help things get better. It gave her empowerment and intuition. 
Lastly, Georgina says to know there is a solution to anything you feel isn't going well. Find that solution and look inside and pay attention to what your gut is telling you. Shut down voices around you and do what's best for your family knowing at the end of the day, sleep is going to change all the other aspects of your family. All Gentle Sleep Coaches want to help your family because they've experienced it themselves. It takes a lot of research, study, and effort to become a Gentle Sleep Coach, so let them help you have patience and passion. 
Connect with Georgina 
You can work with Georgina as a Gentle Sleep Coach. Follower her on Instagram and Facebook for daily sleep and parenting tips.