 How to Be a Better Communicator in Stressful Times with Sam Horn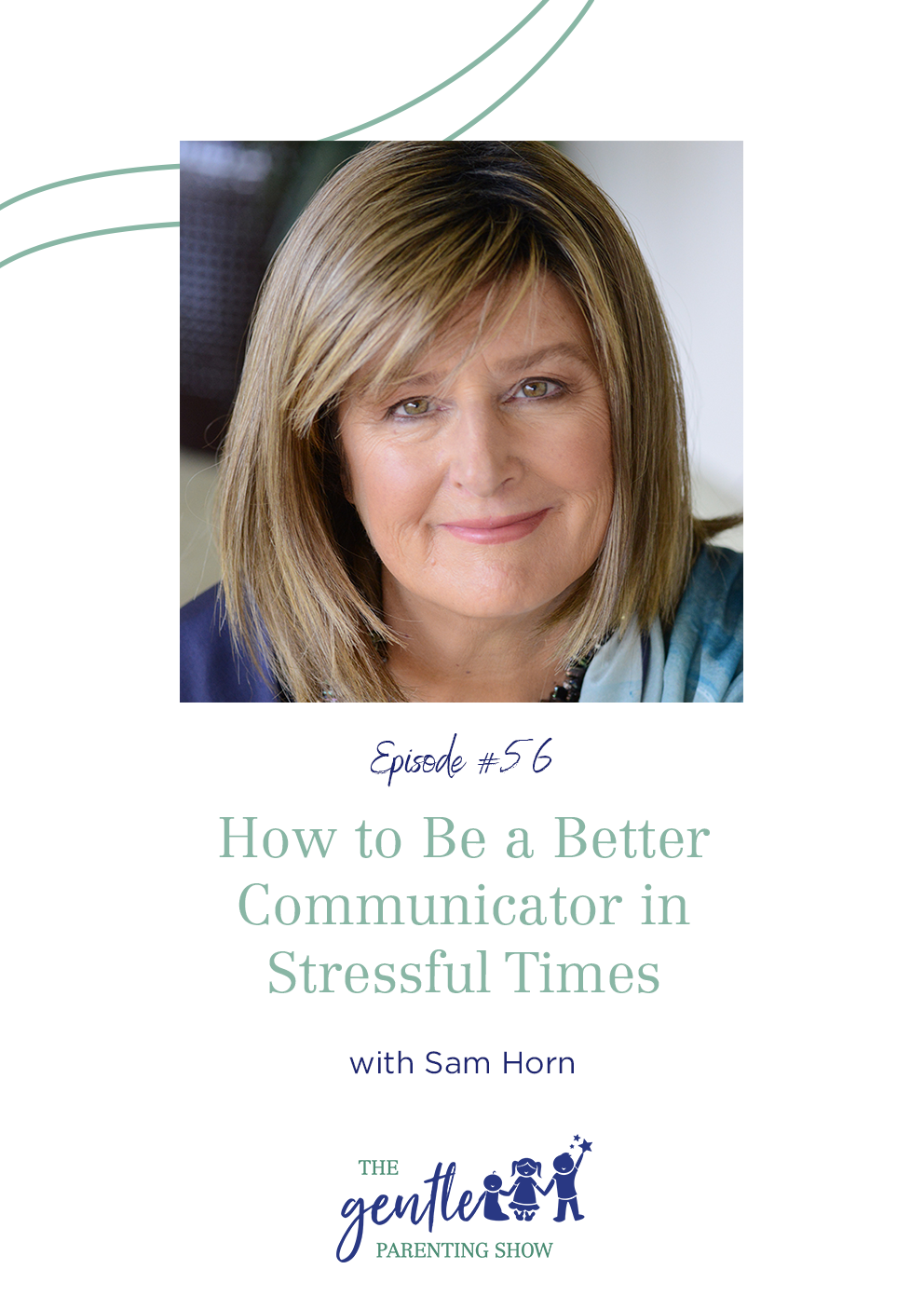 On today's episode of The Gentle Parenting Show, Kim is joined by Sam Horn. She is an award winning author and speaker known for her viral TEDx talks. She has worked as a communications consultant for companies such as NASA, National Geographic and many more. 
Even though it's wonderful to welcome a new baby into your family, this usually comes with some stressful moments that can cause a strain in your relationship with your partner. So, how can you be a better communicator during difficult times?
Tips for couples
A very simple way to work on this is to grab a piece of paper and draw a vertical line in the middle. The left column will be for words to avoid in (usually sleep deprived) arguments, and the next for words that Sam recommends to use instead. Some examples are:
1. Lose: but Try: and
I know you're tired, but it's your turn to get up / I know you're tired, and it's your turn to get up
2. Lose: should Try: next time or from now on
You should have swaddled her / From now on, let's swaddle her every night
3. Lose: explanations Try: agree, apologize, act (Sam calls this the A Train)
Oh I know I didn't call my mom, but I got so busy and then I forgot / You're right, I was supposed to call my mom. Thank you for reminding me, and I'm going to call her right now. 
4. Lose: stop Try: tell them what to start
Stop that! You're gonna break the guitar! / You can touch the guitar, but be gentle!
5. Lose: don't Try: tell them what to start
Don't hit your sister! / Give your sister some space!
6. Lose: can't + because Try: yes + as soon as
No you can't, because you haven't finished your homework / Yes you can play with your friends, as soon as you do your chores
7. Lose: there is nothing… Try: I wish + there is something I can suggest
There is nothing I can do about it, it's not my fault / I wish I could be there because I'm so proud of you. There is something I can suggest, why don't we ask someone to tape the show?
Of course, it can be very hard to remember this in the heat of the moment, so a good idea is to have this list up on your fridge or next to your computer, so you can start building new habits and correct if you need to. You can download your own handout here. 
How to have a healthy family AND a healthy self?
It's good that we're being mindful about the way we communicate with our partner and our children, but it's also very important to take care of ourselves while taking care of others. 
A very practical way to prioritize your own happiness is to think about what you like (and don't like) about your life at the moment. So, on a piece of paper draw a horizontal line and a vertical line, and in each quadrant you will write:
what are you doing in your life that you want to

what are you doing in your life that you don't want to

what are you not doing that you want to

what are you not doing and you don't want to
The goal is to keep doing the things in boxes 1 and 4. This is what works for you. However, box 2 and 3 show us the things that could someday become regrets. So remember to be really honest about what you already like and what you want to change.
Sam recommends talking this through with your spouse, but there is no need to feel overwhelmed: you can pick just one or two things to start with! Whether it is to set up date night or make time for your favorite activities… even the smallest change can create a ripple effect and transform your relationship.
Quotes that we love:
"We all want to feel heard, understood and connected, especially in challenging times".
"You can transform your relationship even in the midst of having a newborn at home".
More about Sam Horn: 
If you liked this episode and want to learn more about this topic, connect with Sam Horn on her website and her Instagram. You can also check out her "Intrigue" TEDx Talk to learn more about her work as a speaker.