 The Importance of Picture Books for Our Children with Author Markita Staples-Green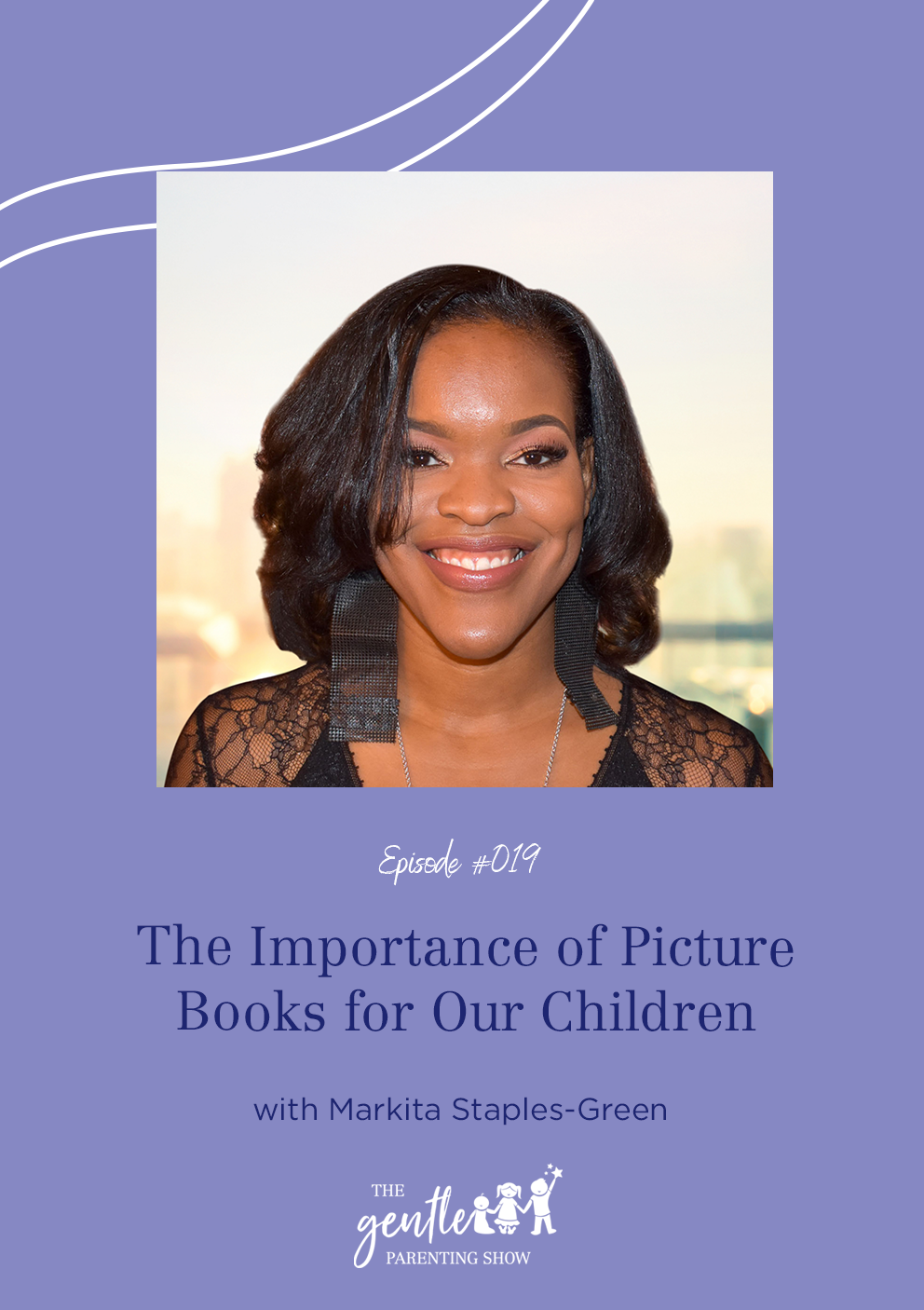 On today's episode of the Gentle Parenting Show, Kim is joined by author Markita Staples-Green. Markita is the author and illustrator of the bestselling picture book series, The Curly Crew. Her books feature a diverse set of characters as they interact with the world, with topics that include sleep, self-empowerment, emotional development, and other topics. She's a mom to two daughters and incorporates gentle parenting in everyday life. Today Markita and Kim discuss how she uses gentle parenting in her books as well as the importance of gentle parenting in BIPOC communities.
The Story Behind the "Curly Crew" Picture Books
Markita first thought to write children's picture books was when her daughter was just a year old. At that age, her daughter had started to require a more "set" bedtime routine, that of course included books. She found that her daughter was a very energetic kid, and needed bright and fun books to capture her interest. Unfortunately, there weren't a lot of options, and hardly any featured BIPOC children.
Markita saw a hole in the children's books arena and decided to step right in with her own. While on maternity leave with her second child, she took the leap and wrote her first book, "What Should I Do Today?". She also taught herself to draw in the process and is the illustrator for her own books.
Gentle Parenting in Picture Books
In her second book, "I Am Not Sleepy!" Markita realized she was using gentle parenting techniques in her writing. The "I Am Not Sleepy!" book was the story of her putting her own child to bed. Throughout the book, you can see gentle parenting techniques being used to get this little girl to bed. It walks through the whole dynamic of the "fight" to go down to bed. She says a big part of what she portrays in her books is to "find a way to respect our children and find a way to come into their world and do things we want, but according to the way we want to do them."
There are quite a few examples from her book on gentle parenting. For example, when the main character doesn't want to take a bath, put on pajamas, or have kisses goodnight, the parent in the book finds ways for the child to get excited about these things, in a gentle way.
In her latest book "I Have So Many Feelings!" Markita uses the characters to show that big feelings are ok. Whether excited, sad, mad, or frustrated, she wants this book to be an example to kids of healthy feelings. She walks through the characters whole day and talks about different feelings that might come up at home, at school, or with friends.
This is so important because sometimes we don't want our children to experience negative feelings, and then they go out into the world and they figure out that sometimes, negative things just happen. Letting them experience and feel these emotions helps them self-regulate. We can teach them to accept and move on with negative feelings.
Using Books to Learn About Our Kids
Markita says that her books are just as much a journal to her as they are a love letter to her kids. She has used her own books and writing process to examine her own parenting philosophies. If anything, they've helped her explore different options and techniques when it comes to parenting.
Kim chimes in to say that as parents, if we want to do things differently than the generation before us, we need to find what aligns with our parenting values. Really take the time to sit down and decide what you value for your children. Know that if you have multiple children, you have to parent each child differently. One child may need a lot of affection, while another values their space. When children are younger and not verbal, it's hard to understand how they're feeling, but look for slivers of their personality in those hard moments so you can understand your child more.
Kim even shares sleep tips to help kids that have Sensory Processing Disorders (SPD). For these children, sleep is hard because they can't self-regulate enough to go to sleep. Kim likes to play the "hamburger" game with these kids. Send your child into bed, and have them pretend to lay down like a hamburger in bed. Then put "condiments" on them. For the first condiment, do a chop motion all down their body. You want to do this is not a soft way so they are tickled, and not too hard that it hurts. Then, for the next condiment, squeeze their body up and down, focusing on big joints. Then, put on the "top" bun by pressing down on their body. She has found this process is a great way to get children regulated enough for sleep.
The Mission Behind Markita's Picture Books
Markita has two main missions for her books. First, she wants parents to really read to their young children. She has heard too many parents say that they don't read to kids until they are about 3 years old because they were too little to "understand". She found that the idea of baby books was still relatively new to people in general. But, the more a child is exposed to books before the age of 6, the more literate they will be.
Her other mission is to have more representation of BIPOC characters and storylines. As a BIPOC woman herself, Markita knows that it's not common to talk about feelings, self-regulation, and gentle parenting among families of color. She hopes her books start these important conversations. She also creates BIPOC characters so more kids can relate to her books. It's so much easier for a child to take the important points from a book when they can relate to the character.
Why Reading Picture Books to Children Matters
Kim and Markita are both big fans of reading picture books to kids. Picture books help with brain development, imagination, and creativity. They both agree that parents should be reading to kids beyond when they can read themselves. Seeing pictures helps a child's brain ignite the imagination. Markita shares that "while you're reading one story through words, your child is getting their own story through pictures."
This reasoning is why Kim West created a YouTube Channel of reading picture books out loud to children. A great outcome of the pandemic was the creation of different resources like this that still give children the benefits of picture books.
Through her writing journey, Markita is looking forward to writing books about more advanced topics like having bad days, forgiveness, etc. She wants to keep all of her books picture books for the time being because pictures benefit both a child and even an adult's brain.
Connect with Markita
Markita's WEBSITE to shop her books