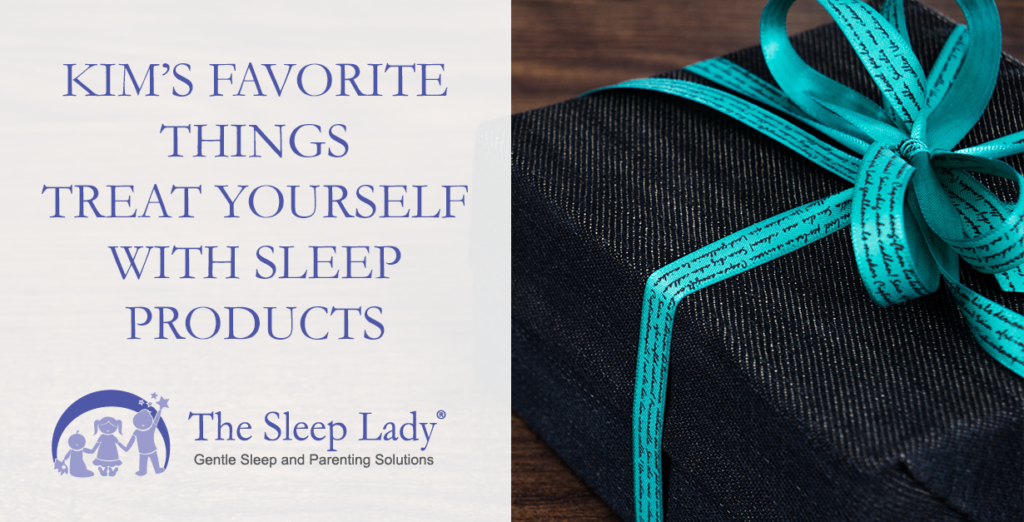 We all want to sleep better, right? This is why I'm sharing a list of the best sleep products for you.  With all the energy we spend on our children and loved ones, self-care is a must. This list of "Kim's favorite things" will calm your body and mind, and send you into a restful slumber.
The Best Sleep Products

Is that extra hour of daylight getting in the way of falling asleep? Are you lucky enough to catch a mid-day snooze? These molded sleep masks are the answer and one of the best sleep products available. It's contoured to fit your face and block out light, and it's soft. This mask fits any face and it won't smear your makeup. Make it night, any time of day. BUY IT HERE.

Originally developed for use for kids with sensory issues, weighted blankets have been helpful for almost anyone. This one is priced for affordability and use with your own duvet cover. Its glass beads are sewn into baffles so they won't move around or make noise. Find a blanket that's just over 10% of your weight for relaxing sleep. BUY IT HERE.


Traveling is fun, but so often you can end up picking up the sniffles. This compact cool-mist humidifier by Crane transforms your hotel or guest room into just the right humidity to keep everyone breathing well. These cool mist humidifiers don't require filters, have an automatic shutoff, and are among the safest for all — including infants and young children. BUY IT HERE.


Got cold feet? That's going to keep you awake. Microwave the insoles for just 30 seconds. Then slip them into the booties for battery and cord-free warm feet. Made from odor-free earth materials, the inserts and booties will relax you, create blood flow to your feet, and make you smile all the way to bed. This is hands down one of the best sleep products. BUY IT HERE.


With a full-button, two-piece design, these all-season jammies come in your favorite color too! Whether you're packing your hospital bag for your baby's arrival, or celebrating that your child is finally sleeping, nothing says bedtime like a nice pair of PJ's. The elastic waist and front buttons are even perfect for new moms who are breastfeeding. BUY IT HERE.


There's more to silk pillowcases than comfort. They'll leave your hair tangle and frizz-free and your skin soft. These are 100% polyester satin, so you can have the luxury of silk at an affordable cost with these pillowcases. They're available as a pair in queen and king-sized. Certain to encourage you into smooth slumber. BUY IT HERE.


Sliding into bed with a hot cup of tea and a good book is the ultimate gift. Especially if you've been going all day long. Made with traditional herbs known to promote sleep, Hey Girl herbal tea is 100% non-habit-forming, and contains no caffeine (obviously). It will send you to sleep even if that's difficult to you — if not, they'll refund your money! BUY IT HERE.

The age-old couples' argument, solved with one of the best sleep products. One person wants it warm, the other cold. Now you can have both, and airflow too! You control the temperature and airflow on the BedJet with an app on your phone. It works by blowing air between your sheets. No more night sweats or waking up freezing! Choose one or two, and maintain your own climate control. Heat or cool your bed before you get in, for the perfect sleeping micro climate. BUY IT HERE.

Chilipad controls your bed from under your sheet. Its energy-efficient system pumps temperature-controlled water through the pad, which sits on top of your mattress. You control the temperature in one-degree increments. Chilipad is available from twin to California King, and features separate controls for each person in the Queen and larger. Sleep in your own climate! BUY IT HERE.

Being mindful is important and also not easy for everyone. One way to analyze your thinking is journaling, but at the end of a long day, staring at a blank page can be more stressful than helpful. Enter guided journals — these diaries feature prompts for you to feel grateful, reflect, and even track progress on improvements. With a hard cover and high-quality paper, the simple act of writing things down becomes even easier to accomplish. BUY IT HERE.

It doesn't have to be expensive to be high-quality. This Crabtree & Evelyn La Source moisturizing hand creme is made from hand-sourced plant-extracts, nourishing botanical oils, and features seaweed extract. Anything but a weed, this sea product is known for its moisturizing properties. Smooth those rough spots before you relax into a deep sleep. BUY IT HERE.
So, did you like this list of best sleep products? Which ones have you tried for yourself?