Nighttime Bottle Feedings – How Do I Wean My Nine-Month-Old?
A reader named Tiffany wrote in to ask about her nine-month-old's nighttime bottle feedings:
"We cannot kick the night wakings of our nine-month old. Our daughter is obsessed with her bottle, whether hungry or not, and must have it when she wakes for comfort. How do I break an addiction like this?
The problem is that she will go from groggy and fussy to fully awake if we don't give her one right away. So, more often than not, we just give her the bottle. But it's getting wearisome to wake many times per night for this. Recently, she is waking four to five times."
This is a pretty common problem, and the solution includes:
Making a plan
Preparing for sleep training with naps
Having a good bedtime routine
Set feeding times
Using The Shuffle
A Common Problem
It's actually very common for babies this age to use nursing or nighttime bottle feedings as a sleep crutch. As you're saying, she really needs it whether she's hungry or not. So, more than likely it's the habit of needing to suck to sleep and back to sleep that creates the need for the bottle.
Make a Night Weaning Plan
First, you're going to need to make a night weaning plan. Talk to your pediatrician and describe a typical three days of food and drink for your daughter. Tell him, "This is how much she eats and drinks during the 12-hour waking period. Given her age, weight and health, do you think that she needs to receive a nighttime bottle feeding?"
This will help you determine how many feedings she needs, if any, each night. You will probably have one or no nighttime bottle feedings. Then you can build that into your plan.
Have a goal to reduce or eliminate night feedings for your baby?
Gentle Sleep Solutions can help with a gentle, step-by-step guide to get your baby sleeping again.
Get More Info
Prepare for Sleep Coaching With Good Naps
You always want to start sleep coaching at bedtime after a great day of naps. Even if it means rocking, holding, feeding her to sleep, or having her sleep in a stroller, do what works for you. Make sure she gets about three hours of sleep combined over two naps on that first day. If the combined time of 3 hours has to be over three or four naps that is also okay in order for her to be well-rested for sleep coaching.
A Good Bedtime Plan
The really great, sweet-spot bedtime at her age is somewhere between 7 and 7:30 p.m.. You will make your way through the day and when you get to 7 or 7:30 she will be well rested, well fed, and not awake too long.
At bedtime you will go through a soothing bedtime routine. Feed her with a bottle, and if she seems really sleepy, then keep the light on so that she stays awake. Don't allow her to go to sleep or get too drowsy. If you find that she starts to fall asleep while feeding, then I would even change her diaper. Make sure she is really awake and then give her kisses and put her into the crib. Pull the shade is down and turn off the light. Then sit next to her and start the sleep-coaching process.
Want to know more about putting your child to bed Drowsy But Awake?
Read: Drowsy But Awake — The Cornerstone of Successful Sleep Training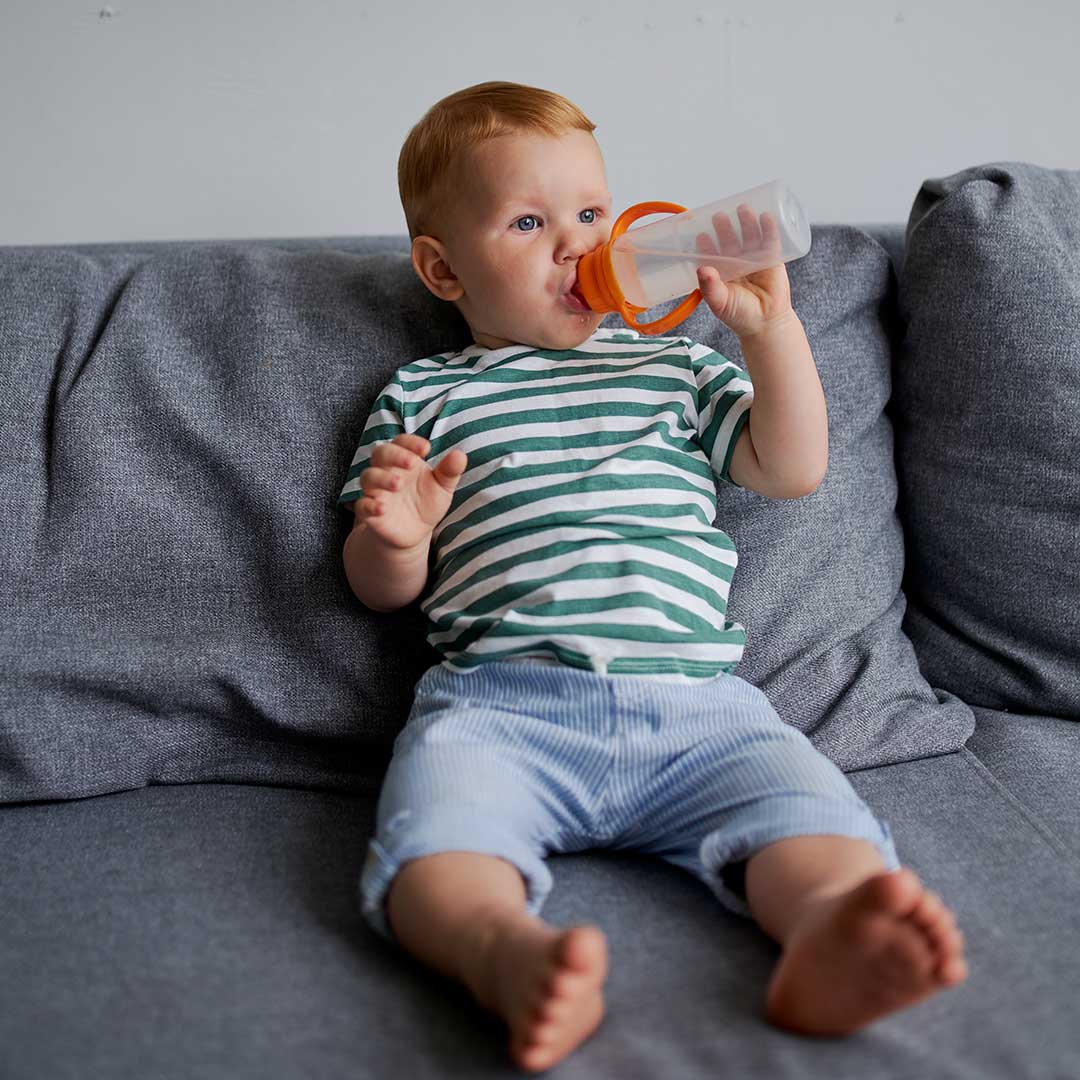 The Shuffle
When you do the Sleep Lady Shuffle you will sit next to her and stay with her until she's asleep. Then you will do the same thing every time she wakes up, offering her physical and verbal reassurance each time. Then you'll gradually move from her crib until you're not sitting with her anymore, and she is falling asleep on her own.
Learn all about the Sleep Lady Shuffle:
Read: The Sleep Lady Shuffle: How to Gently Sleep Train your Baby
Work On Eliminating Nighttime Bottle Feedings
Once you have a weaning plan in place you will only give her nighttime bottle feedings at the designated weaning plan times. For example, if you wanted to wean her completely at night—and your doctor supports that—then you only want to go down to one feeding at first. You would have either a "set-time" feed or a dream feed. You feed her that one time for three nights and on the fourth night there is no feeding.
Over the first three nights you could also reduce the number of ounces in each bottle so that by the fourth night there are only a couple of ounces. Then you would do no feeding on that fourth night. Next, you would stay an extra night by her crib in case that's a big change for her and she needs that reassurance. After that, you move out away from her crib every three nights.
Want to read more about night weaning?
Read: Night Weaning After Six Months: How to Gently End Night Feedings
You Can Do It!
Weaning from nighttime bottle feedings sounds simple, and yet there are many steps to it. Overall, this is how you're going to address the problem so that she will learn how to go to sleep and stay there without using a bottle. Hopefully this helps you make a plan and stick to it!