 Newborn Series: Why Meditation and Mindfulness Matters for Kids with Emily Fletcher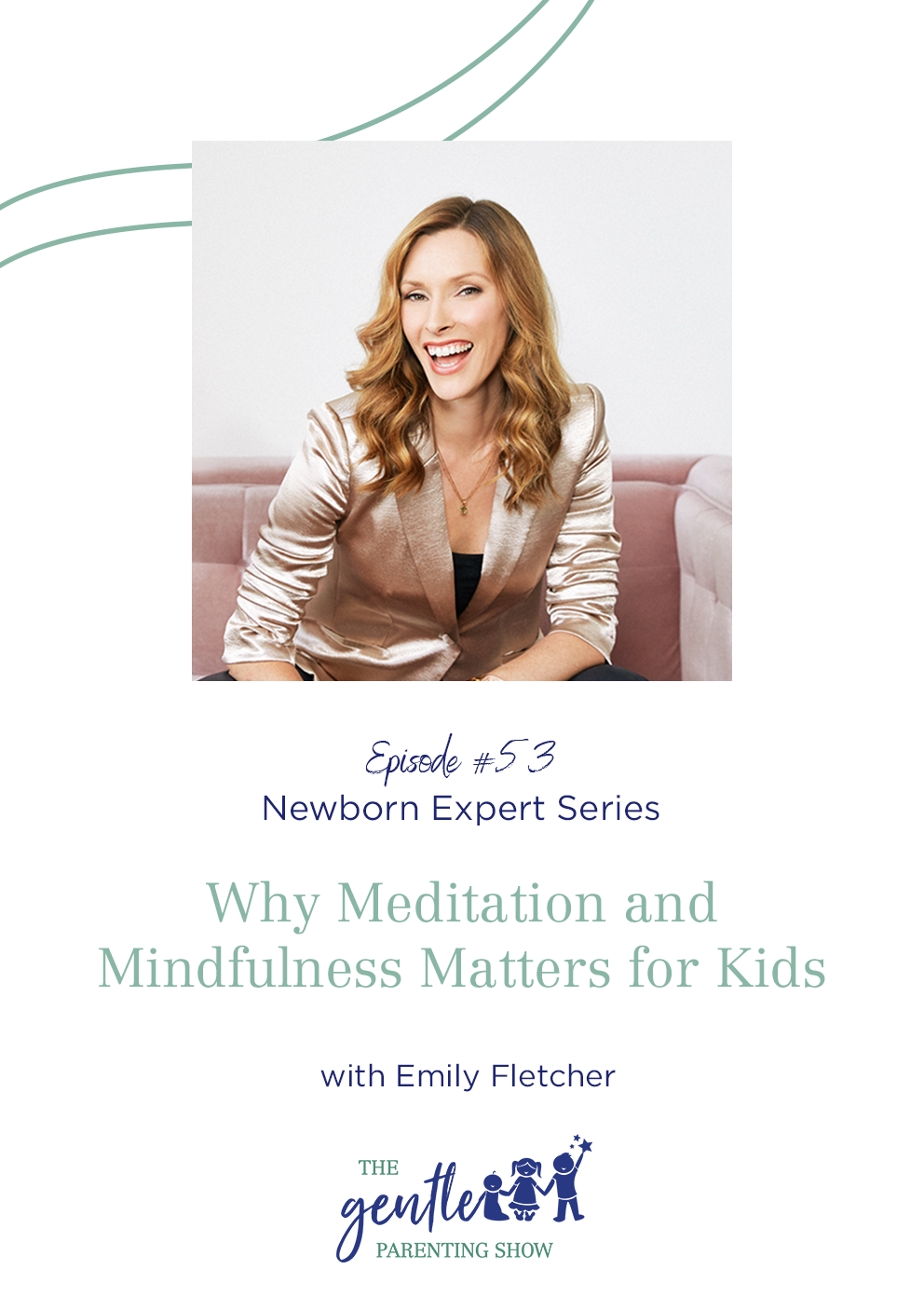 We are so excited for today's Newborn Expert Series episode of the Gentle Parenting Show with Emily Fletcher. From a best-selling meditation book to helping NBA players and Grammy winners learn the practice of meditation and mindfulness, Emily Fletcher has spent the past 10 years developing a unique and effective approach to mindfulness, meditation, and manifestation. Emily is the founder of Ziva Meditation, and now, Ziva Kids, meditation for kids program (use code sleeplady for 15% off both courses) I can assure you from experience that Emily can help your child (and yourself) tap into their inner happiness to become more balanced, whole, and emotionally agile. Emily is an expert in mindfulness and meditation for kids.
I really enjoyed my conversation with Emily because she talks about the why behind mindfulness, meditation, and manifestation for kids, not just the importance of the practices themselves. I love that Emily gives permission to let go of preconceived notions about meditation and really tap into why and how it can help our children and families.
We answer the questions, how can meditation benefit children? What's the goal of meditation for children? How can we as parents help our children ride through emotions? And so much more.
A Stressed Out World
As a mom of 2-year-old Jasper, Emily knows that telling parents to just sit still for 15 minutes a day can seem like the most daunting task. Everyone is looking for the "busiest bee" trophy while chasing success, accolades for our kids, and happiness. Emily teaches that meditation isn't just "clearing the mind" but rather tapping into your inner intuition and happiness to help you get better at life.
So often people can see meditation as this tightly enforced time where thoughts cannot wander. Emily writes a permission slip to all of her clients to let their minds wander during meditation. The mind involuntary thinks just like the heart beats involuntary. When creating Ziva, Emily wanted to focus on three key parts that encompass tapping into happiness – mindfulness, meditation, and manifestation.
Manifestation comes after you've filled your mind and body with dopamine from meditation. You can ask yourself "what would I love right now?" Using the word "love" puts you in a spirit of possibility that allows you to let go of the stress surrounding a thought and hand it over to nature to accomplish.
Creating a Meditation Course for Kids
If you've taped into the benefits of meditation as a parent, your children will pick up on it and intuitively encourage you to practice it more and more. Emily recognized this with her own clients and had countless of them ask when she was going to create a meditation course for kids. She reached out to a client and puppeteer at Sesame Street to get her started and together they created Z Bunny.
Z Bunny is Emily's partner and tool in the meditation course for younger children ages 4-8. This course has been through multiple test groups. Every single line in the course has been looked over by psychologists, pediatricians, and holistic experts. Emily has created a dream team of children and mindfulness experts.
Why Mindfulness and Meditation Matters for Kids
Emily's biggest goal in Ziva Kids is to teach kids that even when they're having big emotions, they can use meditation to access the happiness inside of them. In Ziva Kids, Emily isn't asking your kids to sit still, do "fancy" fingers and repeat chants. Instead, she asks kids to tap into their own interests to do the emotional work.
When kids meditate, Emily teaches that they can unlock their superpowers with what's inside. They can become more brave, creative, and kind. Ziva Kid's unique meditation course helps children go through mindfulness techniques that helps them use their imagination. This gives children the tools they need to help create a change in their current state. From stressed to calm or from angry to happy.
Your child can, and will, get frustrated. The tools kids learn in meditation are not meant to suppress emotions. Rather, they help to illustrate that the feelings are normal and that parents can even ask questions to help move them through their emotions.
More About Emily Fletcher
Connect with Emily and check out her courses, free resources and accolades at ZivaMedtiation.com. Her unique ZivaKids meditation course offers options for both 4-8 year olds and 9-13 year olds. Use code sleeplady to get 15% off both of Emily's courses. She also offers free resources, tips and quick practices on her Instagram and Facebook pages.
You Might Also Like:
get the interactive


newborn sleep
digital planner
for better nights
and happier days