WHERE TO START WHEN YOUR CHILD WON'T SLEEP
For parents of children 6 months - 5 years that are struggling with sleep
Have no idea where to begin solving your child's sleep issues? Start with this guide. This guide will walk you through 5 possible reasons why your child may not be sleeping and will give you quick, actionable solutions that you can try tonight. This guide also covers what you should consider when starting sleep coaching and how to choose a sleep training method that fits best with your parenting style.
When deciding which sleep coaching approach to use, choose a method that: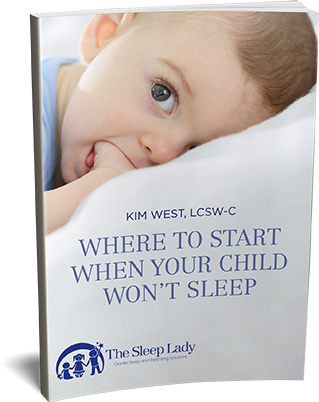 "By 6 months old I was desperate. I initially tried Baby Wise, but that just didn't resonate with me. This more gentle approach was perfect for us and by night #3 she slept 12 hours and I feel like a new person."
~ EW
Meet the Author, Kim West, "The Sleep Lady"
Better known as "The Sleep Lady" Kim West used to be a lot like you, tired. Together with her team of Gentle Sleep Coaches and best-selling book The Sleep Lady's Good Night Sleep Tight, she has helped families get some rest through her proven, step by step gentle sleep coaching method - The Sleep Lady Shuffle, which works for babies in cribs and children in beds.