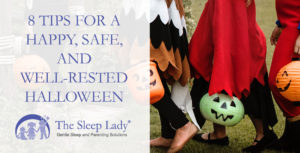 Halloween has always been one of my favorite holidays with my girls. I have such fond memories of my mom making me costumes, and later making my daughters home made costumes. My kids went out to trick or treat as mermaids, lemons, lions, fairies, and more! I love to sew — a random fact that you probably didn't know! But one thing that was really important to me as a sleep expert is getting my kids a well-rested Halloween.
One of my least favorite Halloween memories is from when my daughters were babies. That dreaded doorbell would ring, even if I put out candy. Once my girls were old enough to trick or treat, there were still things to take into consideration. Bedtimes, sugar, making sure they were warm enough, whether seeing older kids dressed as monsters would cause trouble sleeping — all were on my mind as I headed out.
It is possible to have both a fun and well-rested Halloween! To make sure that both you and your child enjoy the holiday, here are a few tips:
Plan Ahead for a Well-Rested Halloween
Halloween is a late night activity — and by late, I mean past 7:00 p.m. — and for small children, it is very exciting.  Make sure that your child is napping and getting adequate restorative nighttime sleep in the days and nights leading up to Halloween.
Dress Appropriately
In most of the United States, Halloween is cold, and you'll likely need to dress your child in a sweat suit under their costume, or plan to have their costume covered by a coat.
If you're purchasing your child's costume, you may want to size up to accommodate extra layers.
If you have a little one that goes to bed before trick or treating starts, you may want to use a white noise or sound machine to help mask the noise outside. Remember that the children outside are likely to be loud and excited, so masking any potential disturbances will help your baby settle to sleep easier.
Put the Candy on the Porch
If your baby goes to bed early, another option is to put your candy bowl on the porch with a polite sign about your baby sleeping. Encourage trick-or-treaters to avoid ringing your bell.
Watch the Clock
On Halloween, it often doesn't get dark until well after 7:00 p.m., which isn't a problem if you don't mind trick or treating during daylight hours. Be conscious of your child's routine and do your best to stick to your flexible schedule. That may mean you have to trick or treat a little earlier to accommodate your child's bedtime — especially if there is school the next day.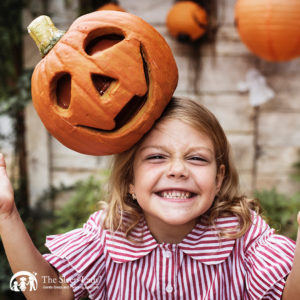 Look for Alternatives
If you find that most of the trick-or-treaters don't ring your bell until well after your baby's bedtime, investigate other options. Many zoos, arboretums, malls, and shopping centers put together a fun treat route that you can take your younger baby or child on earlier in the day. Schools and communities often offer "trunk-or-treats" and sometimes downtown area businesses get in on the fun.
Limit Sweets
Tempting as it is, limiting sweets when you return from your trick or treating adventures — and in the coming days and weeks — will make life much easier. Sugar has been shown to contribute to hyperactivity and can lead to poor quality sleep. Make sure that your child gets a good night's sleep by limiting her consumption to one candy the night of, and then put the rest away.
If your child is older, you can try talking to them about candy being a special treat. Explain that she can have a piece as a special treat once in awhile. Whatever you do, don't tell your child that you ate her candy!
Remember, It's Just One Night
If your child does stay up past her normal bedtime, don't stress. Remember, the point of having a flexible schedule is to keep it flexible for moments like these. Get her back on track tomorrow, and don't stress over one night. Enjoy these moments!