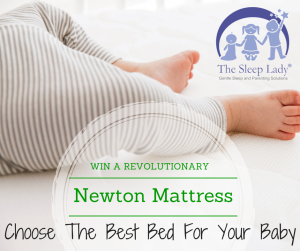 There has been a big push lately toward choosing greener options, especially when it comes to babies. Whether it's food, clothing, carpeting, or your baby's crib, everyone seems to have a green, or organic, option out there. But is it really that important? When it comes to the surface that your baby sleeps on, maybe it is.
What's In A Crib Mattress?

Turns out, a lot! There was a great report published a few years ago by Clean and Healthy NY, called The Mattress Matters, that examines some of the most popular crib mattress manufacturers and their materials and 'green' claims.
In the report, over 50 different mattresses are examined for their contents and treatments, and interestingly they found that not all claims are the same. Some companies use green materials, but potentially harmful flame retardants, while others use some green materials, but include potential allergens. This is why I'm very excited about a brand new mattress that just came on the market.
Newton introduces the first breathable, washable and recyclable crib mattress

. Made with patented Wovenaire technology that allows free air circulation, Newton has been ranked highest for safety against leading competitors by demonstrating the lowest suffocation risk.

Completely washable from the inside out, Newton is firm enough for your baby and comfy enough for your toddler meaning you have years of sweet dreams ahead.
Where Will You Put Your New Mattress?

You may also want to think about your baby's crib (since the mattress that you're being so careful about will be in it, and most importantly, your baby will sleep in it) as well. I would encourage you to purchase a new crib. Even if you find an amazing deal on a used crib, you have no way of knowing its history or future stability (I've seen kids rock their cribs, shake them, and move them).

Unlike the mattress, where you may want something a little more complex, when you're choosing a crib, simple really is best. Sure, there are lots of pretty options, such as round cribs (which aren't currently regulated, by the way, so please be cautious), and all kinds of scrollwork and pretty filigree. While pleasing to the eye, these options are not necessary for a crib to function. I would rather you look for construction and workmanship.
Look at your crib in person. Is it heavy? Pressed board or real wood? Does it have stabilizer bars (usually one or two metal braces under the crib to help stabilize the frame)? Generally, single-duty cribs will be slightly more stable than their convertible counterparts, but this is not always the case, especially with higher-end cribs. And always, always avoid drop-side cribs. They were pulled from the market for a reason.
When you purchase your crib, you will want to purchase the mattress at the same time. This way you can be sure of a snug fit (you should do a fit test there in the store, even if you have to request a manager's assistance) so that baby will not become trapped between a mattress that's too small and the crib.Now that you've chosen a great, safe crib, how can you ensure that your baby's mattress is the safest sleep surface possible? I have to agree with some sage advice from Eco-novice:

Beware of unsubstantiated green claims.
Look for third-party verifications by recognized entities such as the ones on this list. Terms such as 'natural', 'eco', and 'green' are not regulated, which means that companies do not have to meet any standards in order to put it on their product. That certification label is important.

Look for a crib mattress that discloses ALL ingredients
Some manufacturers refuse to disclose all of their ingredients. You can contact the company directly and ask if the package does not disclose their materials, but if they don't want to tell you, you may want to steer clear. This is why I love Newton! There is no other crib mattress out there that is breathable, washable, and recyclable!
Newton contains no foam, latex, springs, glue, or allergens and is 100% recyclable.
Seek out all-natural materials
Cotton, latex, and wool are all naturally occurring, and less harmful than their vinyl or plastic counterparts. Also, try to avoid polyurethane foam if at all possible. Newton is made from air and food-grade polymer.
Additionally, the design allows air to flow freely for optimal breathability and temperature regulation for your baby. The Newton mattress is made of washable material that inhibits bacteria growth, and allows you to wash the whole mattress…not just the cover. It may be the best bed for your baby.
Beware of flame retardant treatments
Many companies will allow you to purchase a mattress without this treatment with a doctor's note. If this is not possible, look for mattresses with a high wool content, which is a natural flame retardant or ones that use either hydrated silica or boric acid, both which are naturally occurring.
A few final notes:
If you aren't sure that you can properly assemble the crib (or you're doing it by yourself), arrange for professional assembly. Sure it's a little more, but you will know that your crib is put together correctly. Also be sure to check the mattress height, especially if your baby is able to pull himself to standing.
You want to be sure that the mattress is low enough that he won't accidentally pull himself out of the crib (I've seen it happen on more than one occasion, so lower is always better). If you are having trouble reaching your baby, purchase a sturdy stool to stand on so that you can reach a bit lower into the crib.
Purchasing your baby's bed is a big decision, and one that should not be taken lightly. With more and more affordable, chemical-free (or nearly chemical-free), natural options appearing on the market all the time, you should be able to find a mattress and crib that fit both your budget and your needs.
Enter to win your own Newton Baby mattress: