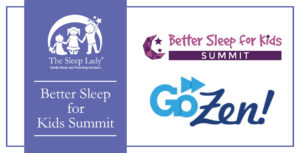 When your kids don't sleep, neither do you. When the whole family isn't sleeping well, you start to understand why they use sleep deprivation as a form of torture. 
Not sleeping hurts
. You feel like you're in a vicious cycle of frustration. I know this feeling well. That's why the Better Sleep Summit for Kids was developed.
I reached out to childhood anxiety expert Renee Jain. We both serve communities of children and families who count sleep among their challenges. Since anxiety is often a part of insomnia, it was a natural partnership.
Over the last 6 months, Renee and I have interviewed insomnia specialists, sleep doctors, pediatricians, nutritionists, psychologists, mindfulness experts and more to get the best possible (and practical) advice to teach our kids how to sleep better.
Reasons for insomnia in kids 5-18 can include:
Anxious thoughts before bed
Fear of the dark, robbers, aliens, etc.
Separation anxiety from mom, dad, caregivers
Devices creating a 'tired, yet wired' effect
Sleep disruptions including snoring and restlessness
Sound, smell, and light disturbances
Sleep is a Skill That Can be Learned at Any Age
If you want to teach your kids how to sleep better, please don't miss this event.
If you've lost hope that your family will ever sleep through the night, this event will change everything! We have selected only the most knowledgeable, respected experts, authors, and teachers to share the latest tools & strategies as well as their own personal stories. They'll show you how to truly empower your child ages 5-18… and yourself to get a better night's sleep.
You'll learn to:
Quell racing thoughts that keep them up at night
Calm anxiety and stress that disturb sleep
Put the device down and choose sleep over play
Fall asleep and stay asleep throughout the night
Quash sleep-related fears (e.g. monsters, darkness, robbers etc.)
Empower kids with sleep skills that help them fall asleep with little or no help from parents
Understand what's underneath the night wakings and how to resolve them
Know that you and your family are not alone in this; we're in this together and we're here to help
Schedule of Experts
Monday, October 8:
Natasha Daniels, LCSW: "The 4 Reasons Anxious Kids Can't Sleep (and what to do)"
Michael Breus, PhD: "Helping Teens and Tweens Master Sleep"
Gene Monterastelli: "Body Hack: Tapping to Help Kids (and you) Sleep!"
Jennifer Waldburger, MSW: "Tackling the 2 Big Sleep Problems in School-age Kids"
Tuesday, October 9:
Elisha Goldstein, PhD: "Mindfulness + Self-compassion = Better Sleep"
Tamar CHansky, PhD: "Putting Monsters and Worry to Bed for Good!"
Anya Kamenetz: "The Truth about Screens & Sleep (According to Sciene)"
Lewis Kass, MD: "Does My Child Have a Sleep Disorder?"
Kanchan Koya, PhD: "Eat Yourself to a Better Night's Sleep"
Wednesday, October 10:
Suzi Lula, MA, ALSP: "How Self-Care Creates a Positive Sleep Ripple Effect"
Rekha Magon: "Mindfulness as a Powerful Pathway to Better Sleep"
Mariam Gates: "Good Night Yoga Before Going to Sleep"
Lindsey Biel, OTR/L: "Sleep for Kids with Sensory Processing Challenges"
Emiliya Zhivotovskaya, MAPP: "The Science of Getting a Great Night's Sleep"
Thursday, October 11:
Katie Holloran, MA, BCBA: "Helping Kids with Special Needs Sleep Better"
Howard Bennett, MD: "The Best Way to End Bedwetting at Any Age"
Maryann Jacobsen, MS, RD: "Better Nutrition leads to Better Sleep"
Charlotte Reznick, PhD: "Visualization and Meditation for Any Child"
Jeanne-Marie Paynel, M. Ed: "BONUS! Montessori & Positive Discipline for Better Sleep"
For more information, visit Better Sleep for Kids Summit.
Check out the schedule, and reserve your spot today!