"How's he sleeping?"
Now there was the question I'd been asked almost daily since my son's birth just a few short months prior.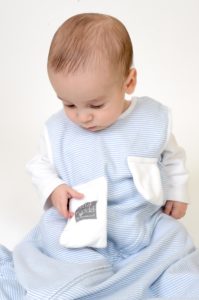 "Just ok", I would always answer. At 4 months old, he was still waking once during the night, though I was convinced he was ready to sleep all the way through. I was completely exhausted, having not had a full night's sleep myself since his birth, and wondered when he'd figure it out. It seemed my new mommy friends all had their kids sleeping through the night already.
By then I'd gone back to work. My son's doting grandmother, who we call Mimi, was watching him during the work week. I often left well before he should have been awake.
I am convinced it was her prior experience parenting in a different generation that made the perfect lightbulb moment for the BittaSack. When Mimi parented, babies were commonly left in their cribs with soft blankets that provided tactile comfort, so she understood firsthand the benefits of a security blanket. 
With that knowledge in the back of her head, Mimi observed my son on the video monitor while he lay in his crib after having woken up in the "way too early" morning hours. He instinctively attempted to grab the front of his pajamas searching for something to hold for comfort. He looked like he was trying to soothe himself but was missing any tools to do so.
As modern parents well educated on the tenants of safe sleep, our son was in a bare crib with nothing cuddly to hold and use to comfort himself.
This was the moment our Mimi envisioned the Wearable Lovie, which became a central feature of the BittaSack. The Wearable Lovies are super-soft, miniature security blankets that have been strategically sewn to the front of the BittaSack for comfort. Babies find them at first by accident, but soon they know they are there and will consistently use them as a soothing tool. 
Once our son was introduced to the Wearable Lovie, he went from being a so-so sleeper to a sleeping champion. We would find him in the mornings, completely relaxed and hanging out in his crib just holding on to his Lovies. The Lovies were long enough to be brought to his face and snuggled, but posed no safety issues because of their secure placement on his sleeping garment.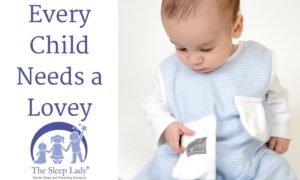 The beauty of the Wearable Lovie goes beyond safety though. Way beyond. I like to say the Wearable Lovies are like a thumb (but better!) because they are removed come morning. Since the Lovies are worn, they can't be lost inside the crib or tossed outside the crib – two major downfalls of the traditional security item.
We knew we were on to something, but we did not stop there. Sleep sacks had become quite popular in the marketplace, but to be truthful, we were not overly excited by them. We examined the sleep sacks available on the market and found zippers that had to be looped from the top near a wiggly baby's neck and bulky designs that caused babies to become twisted as they rolled around in their sleep. We thought through the issues we saw, and created the BittaSack to counter those problems.
Innovative features include:
Wearable Lovies that are safe from day 1 for comfort.

A diagonal zipper that zips from the toe up to below the armhole. This design provides for the easiest diaper changes ever with baby's entire top half staying secure while you change the diaper. Added bonus: older babies who have learned how to unzip will be hard pressed to reach this one.

Internal, stay-put diaper cover that transforms the big bulky sack into a truly wearable garment that moves with baby. Say goodbye to the twisties!
All of this innovation comes wrapped up in a super soft, luxurious cotton fabric, with cotton velour Wearable Lovies attached – perfect for your growing baby!
To learn more about our brand, visit www.bittakidda.com. 
In celebration of the launch of our new online resource, The Gentle Sleep & Parenting Center, we are excited to bring you today's giveaway from Bitta Kidda: