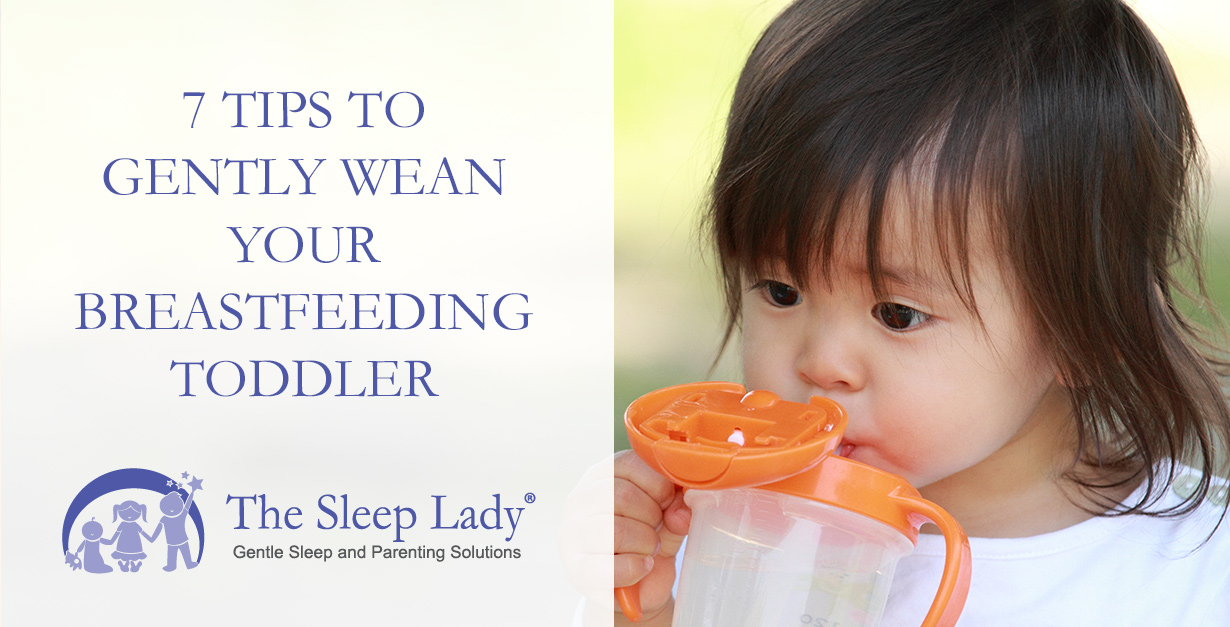 Today we're going to take a bit of a departure from my normal sleep-only articles and delve into something that I hope will help those of you who have questions about how to gently wean your breastfeeding toddler (or even preschooler). First of all, if you're still breastfeeding, kudos to you! Breastfeeding is a huge commitment, both emotionally and physically.
If you have reached a point where either you have decided to end your breastfeeding relationship or you'd like to move in that direction, you're reading the right article. Perhaps your little one is getting ready to enter preschool, or you have to go back to work, or you just are not enjoying breastfeeding anymore (and that's perfectly okay). Whatever your reason, you want to end the relationship on a happy note, and now that you have a toddler, there are some special considerations that you may want to make.
I need to mention that I am not a lacatation counselor. If you would like more information about breastfeeding or weaning, please check out KellyMom or La Leche League. I wrote this article because many moms ask me about weaning, in particular how to gently wean their breastfeeding toddler or preschooler.
7 Tips to Gently Wean Your Breastfeeding Toddler
1. Ensure that your toddler is getting adequate nutrition from other sources
Remember, a toddler's eating habits can be tricky. Aim for a nutritionally balanced week, rather than a nutritionally balanced day. Toddlers need both meals and snacks, and if you're worried about how much your toddler is eating, consider making food fun.
It is important that you talk to your pediatrician about your specific toddler's nutritional needs, and be sure to mention that you are planning to stop breastfeeding soon.
2. Communication is key
Children thrive on routine, and you're about to change their routine. The transition will be smoother if you have a conversation with your toddler about ending your breastfeeding relationship. Gently let her know that everyone stops nursing, and the time that you've spent nursing has been a special time.
Be sure that you begin to discuss weaning a few days before you actually plan to wean, and repeat this theme during the days following, so that your toddler has time to process the information. Use short sentences, perhaps something like "soon it will be time for us to stop nursing."
Usually, daytime feedings are the easiest to eliminate, as your toddler is busy (and also easily distracted). Now would be a good time to introduce a fun art project, pull out a puzzle, read a book, or go on a walk when you see signs that she may ask to breastfeed. You may find that when presented with alternatives your toddler just isn't interested in breastfeeding, which brings me to my next tip.
4. Don't offer
Many toddlers will begin to self-wean if they aren't give the option. When he does ask (because most likely he will, especially the first few days), first offer alternatives, such as water, juice or milk, a special snack instead, or even a distraction instead. If your toddler truly wants to nurse in these days leading up to actually weaning, it's okay to allow it, just be sure that you aren't asking and are offering up other options, this will help you begin to gently wean your breastfeeding toddler.
5. Stop being a pacifier
If you've stopped offering, and started utilizing some gentle distractions, but are still nursing in the middle of the night (this also applies if you are nursing and co-sleeping), then it's time to night wean. I'm not talking about the bedtime feeding (not yet. I'll get to that in just a bit), but the 3:00 a.m. one. Keep in mind that if your toddler is still nursing at night that it's because it's probably his sleep crutch, not a nutritional necessity.
If your toddler is using breastfeeding as a sleep crutch, then it's the perfect time to employ some sleep coaching. Consider introducing a new lovie (let him pick one out that he is excited about), and focus on putting him to bed drowsy but awake. If you need to, you can re-introduce the Shuffle to help gently introduce your new routine.
6. Don't be surprised (or discouraged) if your toddler is cranky for a few days during the weaning process
This goes hand in hand with being the pacifier. If your toddler has been dodging her emotions by using breastfeeding to comfort herself, she is going to need another outlet. Offer her lots of attention, hugs, and snuggle time to help her learn to handle her emotions without breastfeeding. Although it may be difficult, try to remember that a small amount of crying is a normal part of being a toddler.
7. Choose a time to have your final nursing session.
You've already talked to your toddler, and because this has been expected and anticipated, make this a special time for both of you. Talk to your toddler about how wonderful nursing has been, but now it's time for a special change. This will allow your toddler to say good-bye, in a way. Once he's finished nursing this last time, be sure that you offer comfort (in the form of cuddles, and kisses).\
You may need to go back to the Shuffle for a few nights while he adjusts to not nursing before sleep.
A few additional words of advice:
This process can be completed in as little as a few days, or can be stretched to cover a longer span of time. How long it takes to wean is really up to you, but I would encourage you to take at least a week in order to make weaning your toddler as gentle as possible.
Once your toddler is fully weaned, he may still ask to breastfeed occasionally. Instead of telling him that "big boys don't breastfeed", tell him that you need to rest, or offer another form of comfort for him. Remember, this is a big transition for both of you, and I want you both to look back on your breastfeeding relationship fondly.
If you have any questions about your child's early rising, be sure to check out my Sleep Lady Facebook Page, where we have Gentle Sleep Coaches available to answer your questions every day!
Was this article helpful to you? Please tell us by commenting below! For more baby, toddler, and family sleep tips and tricks, please subscribe to The Sleep Lady's Facebook, Twitter, Pinterest, Google+, and YouTube channel! If you are looking for more sleep content, please check out Get Sleep Now-an exclusive members-only area designed to provide in-depth help and support during your sleep coaching experience.
photo credit: HoboMama; various brennemans via photopin cc