 Newborn Series: Introducing Solids to Prevent Food Allergies with Dr. Wendy Sue Swanson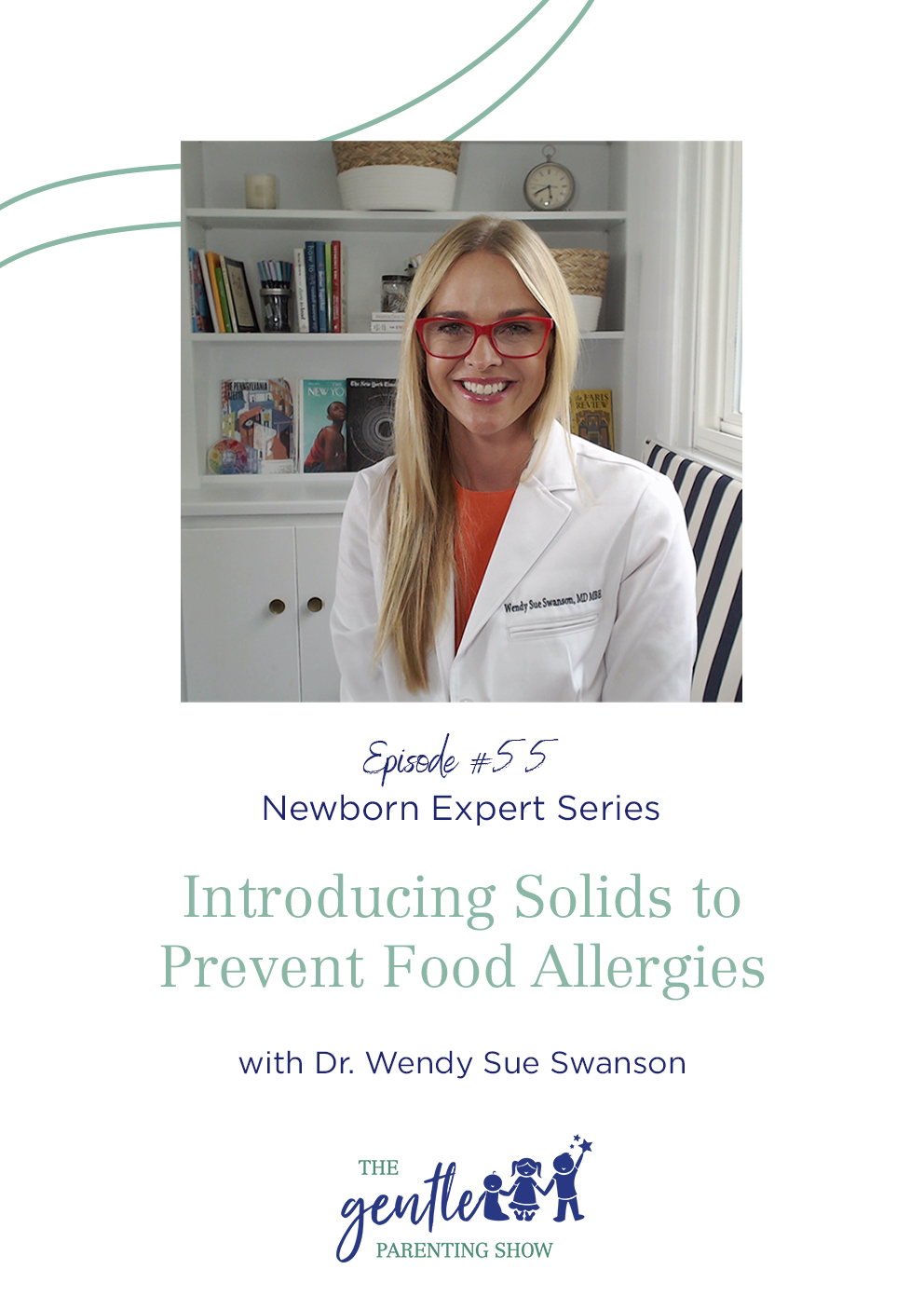 On today's final episode of our Newborn Expert Series on The Gentle Parenting Show, Kim is joined by Dr. Wendy Sue Swanson. She's a pediatrician, health communicator, and Chief Medical Officer for SpoonfulONE. She is known for championing prevention of food allergies in children through early dietary introduction.
Dr. Swanson explains that safely including common allergens in meals can be a way to help an infant's ability to tolerate all kinds of foods.
Kim remembers that her experience as a young mom was very different. Parents were told to wait before giving their babies certain ingredients. That was the case for Dr. Swanson too, both as a pediatrician and a mom. She clarifies that it was believed to be true at that time. Unfortunately this has led to rising rates in diagnosed food allergies in toddlerhood.
Now we know through recent scientific data that what babies are fed can help shape their immune system. It's safe to include allergens like peanuts, eggs and dairy as early (and frequently) as possible.
Food diversity explained
What families want to do is to bring diverse foods into their children's tummies starting at an early age to help protect the body from possible food allergies. For example, if you feed your baby a little peanut butter with their oatmeal, it encourages cells in the immune system to recognize it and this can reduce the risk of developing a peanut allergy later in life.
Ideally, you want to do this over and over again with different ingredients. You don't need to be scared of allergens. Dr. Swanson even encourages parents to bring the foods that they love into their baby's diet in safe formats, like purees. More "unusual" allergens such as soy, sesame, fish, shellfish should also be included.
So, what happens if your baby is already allergic to something you don't know about? In most cases this can manifest in two ways: through hives (in 98% of infants) or vomiting within the first hours. So be on the lookout for any of these signs. Call your pediatrician if the symptoms worsen, although this is very rare.
When to start
Through her work at SpoonfulONE, Dr. Swanson believes that parents should start introducing different allergens as early as possible. Of course, both baby and mom need to be ready for the transition into solid foods.
If mom is still breastfeeding and is passionate to continue doing it exclusively for up to 6 months, it's okay! Your baby will start showing readiness when it's time to start mixing it up. However, just like a child's first roll or coo, it can vary for each baby.
Signs to look out for:
– Your baby will start being curious around adults eating.
– Oral motor skills start showing up: like being able to control the tongue.
– They can keep their heads up and have the ability to sit on your lap comfortably.
Finally, the goal is for parents to be confident in what they're feeding their babies. Dr. Swanson suggests: When it comes to food it's not just about your baby's first moments, but persevering and making sure they are getting as much diversity as possible in their diets.
Quotes we love:
"Everytime we add different food groups to our baby's diet in early life, and keep them in, we're designing our baby's immune system to be tolerant of it for the rest of their lives".
"When you start early and keep them in, that immune system is getting exposed to all these different foods".
"You should be able to feed your baby the world, and then the baby can travel the world later on and eat anything they want".
More about Dr. Wendy Sue Swanson:
If you liked this episode and want to learn more, connect with Dr. Wendy Sue Swanson on SpoonfulONE's website or her Instagram.